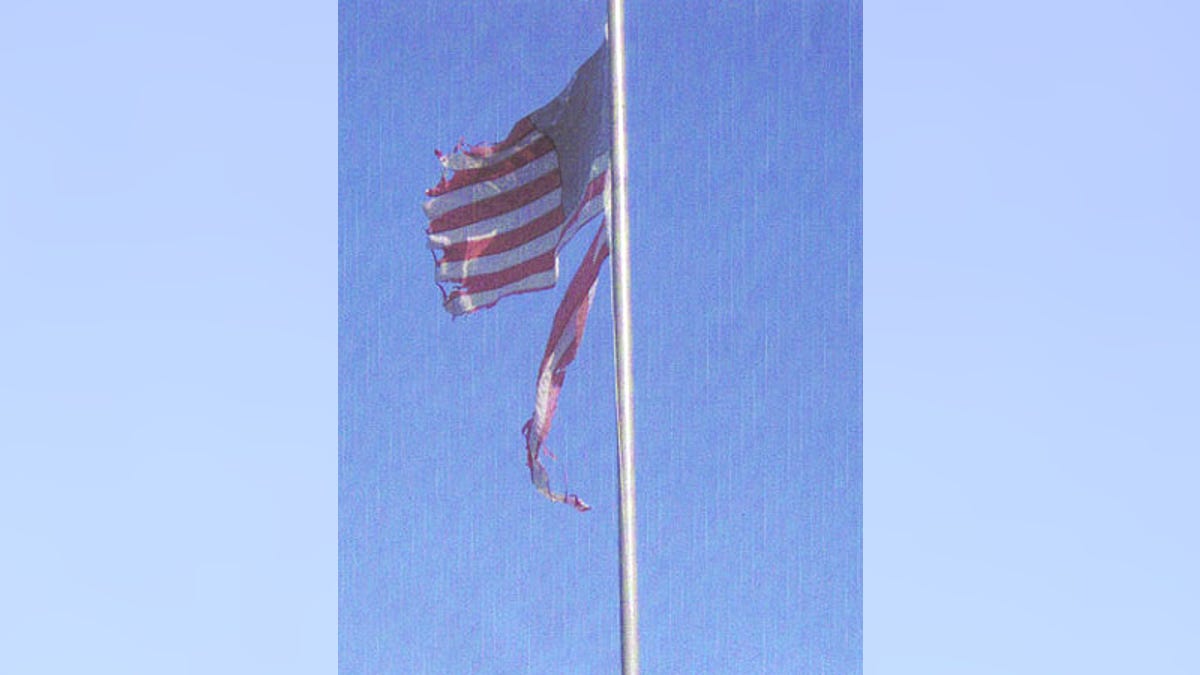 A promise is a promise.
A California dad is refusing to take down the tattered and torn American flag that's been flying on his lawn in Fresno for almost a year, despite complaints from neighbors on his military-heavy block and from a national veterans group that says he's mistreating the Stars and Stripes.
Even passersby have phoned Louis Haros, demanding that he take down his weather-beaten flag immediately.
But Haros, a Vietnam veteran, told his son last September that he'd wave that flag until he comes home from Iraq.
And a promise is a promise.
"I made a promise to him that it won't come down until he's home," Haros told FOXNews.com on Tuesday. "Well, it's still there. I feel if I bring it down and something happens to him … I don't know."
Paul Haros is already back on U.S. soil after his second tour in Iraq. He and his dad spoke yesterday when he landed in Wisconsin to undergo medical checks and to relinquish his weapons. But Louis Haros says the flag won't come down until Paul returns to Fresno.
"I told him this flag protected me in Vietnam and I will see that it protects you," said Haros, a former master sergeant in the U.S. Army. "In a normal situation, I would've brought it down a long time ago."
Corporal Paul Haros is expected to be back home by Friday after two tours in Iraq as a member of the Army Reserve and a tour with the 82nd Airborne Division in Operation Desert Storm.
It won't be soon enough for some of Haros' neighbors, who see no reason to wait any longer to play taps for the flag.
"I understand why the gentleman is doing it, but it's in tatters," neighbor John Southward told FOXNews.com. "I fly my flag every day."
But Southward, a former Navy signalman, said he also found it "appalling" that Haros' son had been in Iraq long enough for the flag to become so raggedy.
"To me, that's appalling," Southward said. "I wish Mr. Haros and his son the very best, I really do."
Another neighbor, Bryan Walters Sr., was so moved about the condition of the flag that he confronted Haros and then dropped off a new one.
"I'd been watching that flag fall apart," Walters, a Navy veteran, told the Fresno Bee. "It had been getting more and more tattered every day, and it was just breaking my heart."
Ryan Gallucci, a spokesman for AMVETS, a group of 180,000 U.S. veterans, said while it's a "dicey" situation, the organization would prefer that Haros stop flying the tattered flag.
"It's a national symbol and not just a symbol of one soldier's sacrifice," Gallucci told FOXNews.com. "We would advocate he replace it with a serviceable flag out of respect for those who have gone before."
Gallucci acknowledged that Haros was flying the flag for the "right reason," but he suggested that he properly retire it in an appropriate fashion.
According to U.S. Code, an American flag should be destroyed in a dignified way, preferably by burning, when it is "no longer a fitting emblem for display."
Haros said he intends to bring the flag down as soon as his son comes home. He's "definitely" surprised by the complaints he and his wife have received from neighbors and even strangers who drive by and later call their home.
"Once they understand the reason behind what's going on, they get it," Haros said. "But nobody can actually be in the shoes of the individual until you stand in them. It was a promise I made to my son. If something happened to him, how could I live with that?"
Still, the negative attention brought on by the flag has Haros' wife getting anxious.
"She's saying she doesn't want to get any more heat," he said of the multiple phone calls they receive each day. "It's really turned into something."