Boston University Medical Student Charged in Craigslist Killing Held Without Bail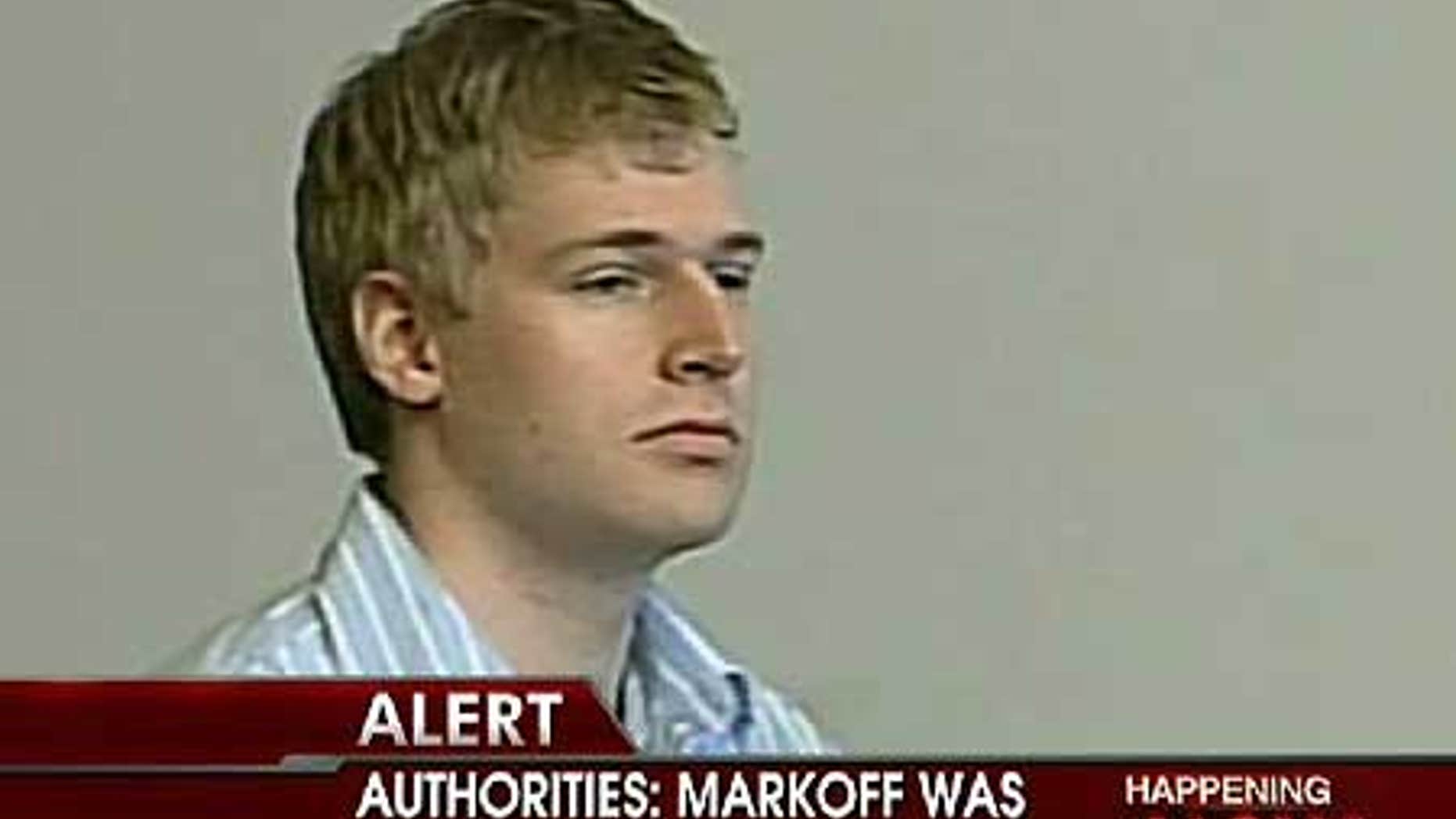 A Boston University medical student engaged to be married was ordered held without bail Tuesday on charges he used Craigslist to lure a masseuse to a hotel room and then shot and killed her.
A handcuffed and emotionless Philip Markoff, 22, said nothing in court as the charges were being read at his brief arraignment hearing in Boston.
Prosecutors say they found a semiautomatic weapon at his home, as well as ammunition and materials exactly like those used in an attack on another masseuse in Boston.
Markoff is charged with murder in the April 14 shooting death of Julissa Brisman of New York City at a luxury hotel in Boston and with kidnapping and armed robbery in the other assault on April 10 at a different hotel in the city.
A shot to 26-year-old Brisman's heart "killed her instantly," the prosecutor said Tuesday in court.
Suffolk Assistant District Attorney Jennifer Hickman said Markoff shot Brisman three times during the failed robbery attempt last week. Two of the bullets went through the masseuse's chest and one went into her heart, according to Hickman.
A police source told The Boston Globe that investigators believe a gambling problem may have prompted Markoff to scan Craigslist for potential theft victims. Publicly, law enforcement declined to comment on a motive.
Outside the courthouse, Suffolk District Attorney Daniel F. Conley wouldn't answer a question about whether gambling played a role. Investigators believe that robbery was the catalyst for the attacks, Conley said.
Investigators said they followed a computer trail to Markoff, linking an account used to set up appointments on Craigslist with the two women who were attacked to his address in Quincy, Mass.
The Boston University med student preyed on women he found through the classified advertising Web site, according to authorities.
They said a search of his home found the gun, ammunition and materials that matched those used in the armed robbery of the other masseuse.
Markoff was held without bail on the murder charge and on $250,000 bail for other charges related to the alleged string of attacks, the Boston Herald reported.
Markoff's attorney, John Salsberg, did not immediately comment.
But the suspect's fiancee says police have the wrong man and there is no way he could have done it.
In an e-mail to ABC, Megan McAllister said Philip Markoff "could not hurt a fly." She called him "a beautiful person inside and out," according to the message read on the air Tuesday.
McAllister said she and Markoff expect to be married in August "and share a wonderful, meaningful life together."
E-mail messages sent to McAllister via her Facebook page by FOXNews.com and The Associated Press were not immediately returned Tuesday.
The McAllister family did not respond to knocks of the door of their Little Silver, N.J. home Tuesday. Shortly after, a police officer emerged from home and said the family did not wish to speak with reporters, and asked the media respect their privacy.
Investigators believe he could be involved in a slew of similar cases.
"There may be other victims out there, and if you are, we want you to come forward," Conley said. "Our top priority is holding Philip Markoff accountable. He's a predator."
Detectives said they had been tracking Markoff for some time before arresting him Monday.
Conley said evidence from computer forensic experts, as well as traditional police investigative work, linked Markoff to the two crimes. The man police say is Markoff was seen on video surveillance using a hand-held texting device at several of the hotels.
Michael Bernard, who lives in Markoff's building in Quincy, was shocked to recognize his neighbor on television reports of the killing.
"He was smart, he carried himself well, he was clean, a good looking guy," said Bernard, a retired electric company worker. "He seemed like the type that would have it all. It doesn't make sense."
Others who knew him told ABC on Tuesday they were stunned by the accusations.
"This is a great guy ... Just a total disconnect from what we're hearing in the news," neighbor Jonathan Uva said.
Brisman was found dead April 14 at the Boston Marriott Copley Place. The New York City woman advertised massage services on Craigslist and had a massage table set up in the room where she was shot last Tuesday, police said.
Police said they had long suspected that Brisman's killer was connected to the robbery at the Westin Copley Hotel in Boston four days earlier. That woman had also advertised services on Craigslist.
Authorities believe Markoff also may be linked to an attempted robbery in a Rhode Island hotel Thursday of a stripper who had posted an ad on Craigslist.
She was held at gunpoint before her husband entered the room and her attacker fled.
Markoff was arrested by Boston police after he was stopped on a highway south of Boston, Police Commissioner Ed Davis said at a news conference.
A Facebook profile matching Markoff's identity, including his photograph, lists him as a 2007 graduate of State University of New York-Albany and in the 2011 class at Boston University.
A Boston University spokeswoman told Boston radio station WBZ-AM that Markoff had been suspended from the medical school after his arrest.
Click here for more on this story from MyFOXBoston.com.
Click here for more on this story from the Boston Herald.
Click here for more on this story from The Boston Globe.
The Associated Press contributed to this report.