Belgium Apartment Building Collapses After Gas Explosion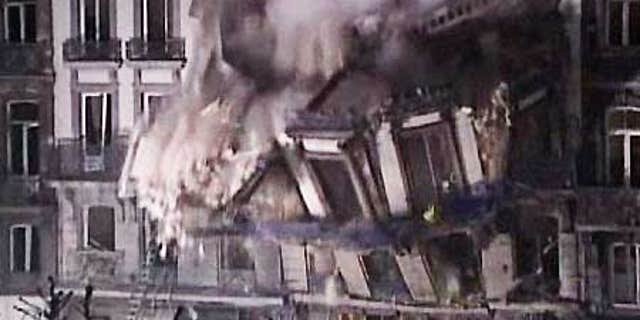 LIEGE, Belgium – A five-story apartment building collapsed after an apparent gas explosion early Wednesday, injuring at least 20 people and leaving at least two caught under the rubble, officials said.
It remained unclear whether those trapped in the debris of the century-old building were still alive, officials said.
Firefighters heard at least two different voices under the rubble when they looked for survivors after the ornate facade of the building collapsed, some five hours after the 2 a.m. (0100 GMT) blast.
"It is likely there was a gas explosion," Liege Mayor Willy Demeyer said. There was a gas alert in the building over the weekend but no leak was discovered, he said.
Immediately after the blast, a fire raged through the building and thick smoke billowed into the air from the top windows.
The blast shattered windows in the city hall, 100 meters away and spread debris and dust throughout the adjacent streets in downtown Liege.
"It was such a noise that we thought the explosion happened inside the city hall, even though the actual explosion was more than one hundred meters away, so the whole neighborhood was woken up and devastated," said Demeyer. Most of the historic center of the city was closed off because of the explosion.
Over 12 hours after the explosion, smoke and small fires still made the search for survivors difficult, especially for sniffer dogs used by special services. Bricks and twisted metal piled meters (yards) high, forcing rescue workers to dig deep in the hope of finding more people.
Although authorities reported at least 20 people injured, only a dozen people officially resided in the building. It was unclear how many were sleeping there when the blast went off.
Belgian King Albert II was planning to visit the site in the afternoon and visit survivors in area hospitals.