An Inside Look at the Bobby and Jackie Kennedy Affair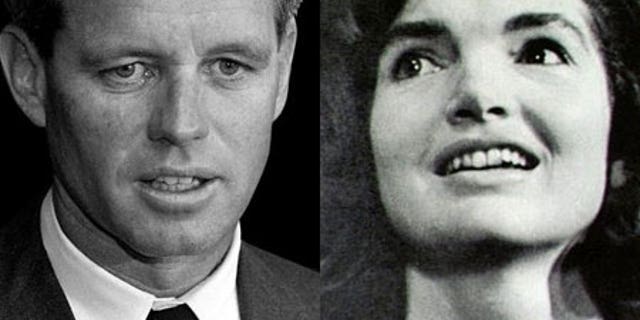 Famed Beverly Hills Courier columnist George Christy gives you an insider's peek into Hollywood's A-list parties and personalities.
Days after publication, "Bobby and Jackie, A Love Story," climbed to number eight on the New York Times bestseller list. To research and write about the love affair between Bobby Kennedy and Jackie Kennedy, author C. David Heymann, three-times-nominated for the Pulitzer Prize, spent more than twenty years in heavy-duty interviewing with friends, acquaintances and observers of the Kennedys.
Heymann believes it was the grief that Bobby and Jackie shared after the assassination of President Kennedy that brought them together for their four-year affair before she wed Greek shipowner Aristotle Onassis. According to Heymann, Bobby, who was wed to Ethel Kennedy, with whom he had 11 children, was Jackie's "true love."
Heymann's written biographies of Elizabeth Taylor, separate biographies of RFK and Jackie, John and Caroline Kennedy, Amy and Robert Lowell, Ezra Pound, and others. Three have been made into NBC miniseries. His well-written books stir controversy, with numerous quotes from the deceased, but many subjects he interviewed for this bombshell bestseller about Bobby and Jackie are alive.
"Heymann delivers a gawk-worthy beach read … life for JFK and Jackie was less than perfect … Bobby volunteered to play surrogate father to her kids; before long, an affair began," notes Publishers Weekly in their review. "According to Truman Capote, it was 'perhaps the most normal relationship either one ever had.' It was not necessarily simple, however; both saw a number of people while they were together. Promiscuity aside, the Kennedys were also notoriously chintzy in their personal lives, they didn't tip, and employed undocumented workers at home … it's anyone's guess how the affair would have ended if Bobby hadn't been killed; just four months later, she married Aristotle Onassis ... research is top notch, with plentiful attributions, making this train-wreck love story a substantial guilty pleasure and a sizzling reminder of how the rich are different."
"I suspect that the one person Jackie ever loved … was Bobby Kennedy. There was always something intimate in her voice when she mentioned him to me," recalls Gore Vidal. "You can look at people and tell if they've been intimate," assesses film producer Susan Pollock, whose friend kept a suite near Jackie's at the Carlyle Hotel in New York. On several occasions, the friend saw Bobby, who was five foot nine and weighed 140 pounds, and Jackie return to the suite late at night, then leave together in the morning. "My friend could tell their affair was an open secret."
RELATED: Click here to read George Christy's full column at the Beverly Hills Courier.