Aircraft Carrier, Hundreds More U.S. Troops Arrive in Haiti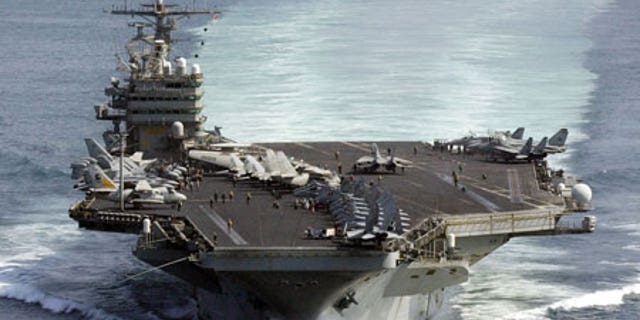 WASHINGTON – Hundreds of U.S. troops and an aircraft carrier have arrived for the Haiti relief effort, and the commander on the ground said Friday that food, water, medicine and other emergency relief supplies are being rushed to earthquake victims.
Thousands more troops and sailors were en route.
"We have much more support on the way," Army Lt. Gen. Ken Keen said. "Our priority is getting relief out to the needy people, to mitigate the suffering that the Haitian people are experiencing right now."
Delayed for hours along with other flights circling over the severely congested Port-au-Prince airport, a second plane carrying soldiers from the 82nd Airborne Division finally landed at the airport in the middle of the night — bringing the infantry unit's total there to 115, Maj. Kristian Sorensen, a spokesman, said Friday.
The aircraft carrier USS Carl Vinson also arrived off Haiti's shores overnight carrying 19 helicopters, and it started flights off its deck in the morning, officials said.
The carrier also has water-purifying equipment and three surgical operating rooms and can do medical evacuations as well as ferry supplies and people to and from land.
The arrivals added to more than 300 military personnel who had gotten there as of Thursday and amounted to the first major influx of military from the United States, which has taken the lead in world efforts to assist the devastated country.
The U.S. Southern Command said there were about 8,000 personnel from America's armed forces either on site or on the way as of Friday morning.
The 82nd Airborne was sending another 800 troops Friday and will have a full brigade of some 3,500 on the ground by the end of the weekend. Another big ground force was expected late this weekend — the USS Bataan amphibious assault ship got under way overnight and was stopping to pick up Marines on its way.
The Navy hospital ship USNS Comfort was to leave Baltimore Saturday with some 250 medical staff, stop in Florida to pick up 300 more people and be off Haiti Thursday.
The infusion of troops began as President Barack Obama declared himself determined to carry out a wide-ranging rescue despite the strain that such a vast undertaking invariably would take.
"To the people of Haiti, we say clearly and with conviction, you will not be forsaken," Obama said Thursday. "You will not be forgotten. In this, your hour of greatest need, America stands with you."
A primary challenge is the badly damaged seaport that will make it difficult for ships — carrying the kinds of mass amounts of supplies and helicopters needed in a natural disaster — to offload their equipment. An assessment team was looking alternatives, including a port the U.S. Coast Guard has been using for some cargo.
The State Department confirmed the death of one American, career diplomat Victoria DeLong, a cultural affairs officer at the U.S. Embassy who was killed when her home collapsed. Spokesman P.J. Crowley said three other Americans were known to be missing and the embassy had made contact with nearly 1,000 U.S. citizens in Haiti, a fraction of the estimated 45,000 there.
Aware of the steep political cost that George W. Bush paid for an ineffective response to Hurricane Katrina, the White House has labored to show Obama has been intensely engaged since immediately after the quake struck. Details of evening Situation Room meetings, phone calls with world leaders and canceled events were being released almost hourly.
Obama himself warned it would take hours "and in many cases days" to get the full U.S. contingent to Haiti.
"None of this will seem quick enough if you have a loved one who's trapped, if you're sleeping on the streets, if you can't feed your children," Obama said at the White House, his second appearance on the topic in as many days, followed by a third later in the day. "So today, you must know that help is arriving. Much, much more help is on the way."