Zobrist joined Cubs to win World Series with Maddon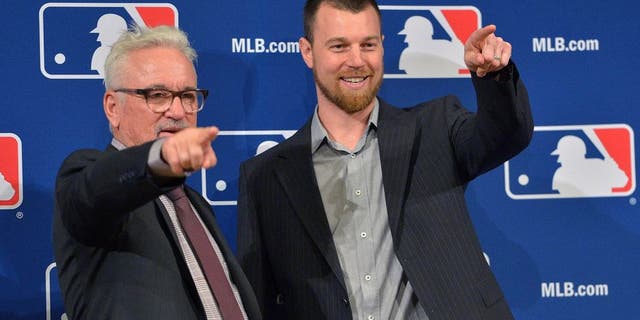 The Chicago Cubs officially introduced Ben Zobrist at a news conference Wednesday after signing the super utility player to a four-year, $56 million deal.
Zobrist, one of the top free agents of the offseason, was reportedly pursued by numerous clubs since helping lead the Kansas City Royals to a World Series championship. Overall, he said he just felt he wanted to be a member of the Cubs.
"There were so many good teams to choose from," Zobrist told reporters during his introduction with the Cubs. "I don't think there was a wrong choice. Our heart wanted to be in Chicago."
When the choice came down it, the 34-year-old ultimately wanted to play for Cubs manager Joe Maddon, who his manager of the Tampa Bay Rays when Zobrist was called up to the majors in 2006 until he was traded to the Oakland A's prior to the 2015 season.
"I wanted to play for this team, wanted to play again for Joe Maddon and wanted to win a championship as a Chicago Cub," he said. "That's my one goals the next four years -- bring the World Series trophy back to Chicago."
With an already potent lineup returning after a 97-win season for the Cubs, adding Zobrist to the mix certainly gives Chicago better odds to end the 107-year World Series drought.
Zobrist was willing to wait for the Cubs to officially make an offer while Chicago was attempting to move Starlin Castro, to make room for the veteran. Meanwhile the New York Mets were making a huge push to sign Zobrist, but after the deal to bring in Adam Warren from the Yankees in exchange for Castro was made official, Zobrist said it took him a 'split second' to accept the offer when he was called by the Cubs.