Zimmer, Vikings proving to be excellent match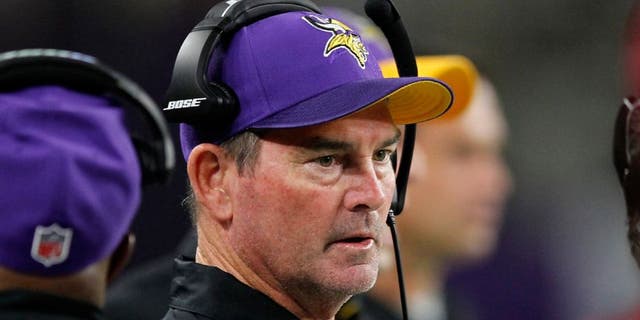 EDEN PRAIRIE, Minn. -- Mike Zimmer had been an also-ran for so many NFL head coaching positions that he almost declined a second interview in Minnesota, exasperated by being passed over for yet another top job.
The best fits in life can take time to transpire.
Not quite three years into his first chance to be in charge, Zimmer has quickly proven his qualifications after waiting until age 57 for the opportunity. Zimmer has the Vikings so enmeshed with his defiant, demanding and direct personality that it's difficult to imagine either one without the other anymore.
"I think your team does that naturally with a coach, good or bad. He embodies this football team," linebacker Chad Greenway said, "and we obviously respond to him."
Inheriting in 2014 a defense that yielded the most points and the second-most yards in the league the season before, Zimmer helped raise those rankings to 11th and 14th in his first year. The Vikings finished 7-9 while learning his aggressive, creative scheme.
In 2015, they were fifth and 13th respectively, while stepping in front of favorite and four-time defending division champion Green Bay to win the NFC North at 11-5.
Now their 5-0 record is the only perfect mark in the NFL. They've surrendered a league-low 12.6 points per game and are fourth in yards allowed, having beaten three playoff teams from last season (Green Bay, Carolina, Houston) and the last two league MVP award winners (Aaron Rodgers, Cam Newton). All this despite the absence of several key players that poked a big hole in that championship goal.
"I don't think our team ever thought of us as kind of being written off. Maybe other people did, but I don't think our team did," Zimmer said after the Vikings sailed into their bye week on the strength of a 31-13 victory over Houston .
No team is ever immune to injuries, and plenty of Super Bowl winners have survived the loss of multiple starters over the course of a 16-game schedule and the playoffs. That's not a novel feat in this brutal sport.
Few outfits are as well-built as this edition of the Vikings is, though, to withstand such an early onslaught. The franchise quarterback (Teddy Bridgewater), the reigning NFL rushing leader (Adrian Peterson), both starting offensive tackles (Matt Kalil and Andre Smith) and a starting defensive tackle (Sharrif Floyd), all former first-round draft picks, are recovering from surgeries after suffering long-term injuries. Floyd is expected back this year, and perhaps Peterson, but the depth of the roster and the resilience of the players have been tested hard.
"We know the show must go on no matter what," cornerback Captain Munnerlyn said, adding: "Coach Zimmer let us know that no one is going to feel sorry for us in this league."
That next-man-up, one-week-at-a-time mentality is coach speak, but it's a real factor in this strong start.
"That's one of the things that I really appreciate about this team and these guys. When they come in here to the building, they grind in the meeting rooms, they listen to the things that I tell them, they study," Zimmer said. "There are still a lot of things we have to clean up and get better at, but they try. When they come out to practice, they have fun, but they really work, too. So I think all of this is about just a singleness, a purposefulness at hand."
The trade general manager Rick Spielman made for Sam Bradford gave the players an emotional lift four days after Bridgewater went down, but the boost Bradford has provided the offense has been just as big. He has attempted 125 passes without an interception, displaying the quick release, confident touch and strong arm befitting the first overall pick in the 2010 draft. The offense has run 310 plays without a turnover.
"They keep coming into the games and figuring out a way to get it done," defensive end Brian Robison said. "Sam Bradford is playing lights out. That O-line, with the guys that they've had to shuffle and everything else like that, they're putting their heart out each and every day. I really can't say enough for those guys."
Since the 12-team playoffs format was adopted in 1990, nearly 90 percent (44 of 49) of the clubs that began 5-0 have qualified for the postseason. The Vikings were one of the unfortunate five, when a 6-0 start in 2003 became 9-7. None of the current coaches or players was around then, but this snake-bitten fan base sure remembers that year, along with all the other promising teams that finished with a crushing defeat.
The depth of the offensive line, and thus its ability to keep Bradford healthy, is a significant concern. So is the mindset of kicker Blair Walsh, who has had more than his share of misses after the 27-yard field goal that went wide left in January against Seattle to keep the Vikings from advancing in the playoffs.
They're at least well-equipped to endure the next setback, no matter how the season turns out. Zimmer wouldn't have it any other way.
"It's all about keeping the blinders on," defensive end Everson Griffen said, "and keep on grinding. If we do that, we're going to be a hard team to beat."