Zambrano's Meltdown, Posada Goes Back to the Future, and Beltran's Injury Woes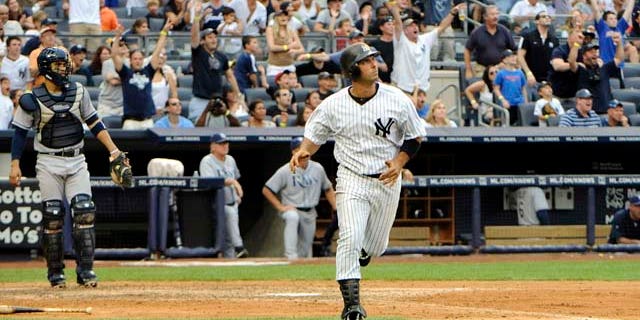 Big Z Banished
The Chicago Cubs placed Carlos Zambrano on the 30-day disqualified list Saturday following the Big Z's walkout on his team after being ejected from Friday's game in Atlanta.
Zambrano had given up five homers, including back to back shots by Freddie Freeman and Dan Uggla. He reacted by throwing two pitches at Chipper Jones, missing both times, with the last one sailing past the Braves' third baseman and Cubs' catcher Giovanni Soto. He was tossed, and then cleaned out his locker and left, telling team personnel that he was retiring.
In a conference call general manager Jim Hendry said that he did not support Zambrano's actions and that "this was the most stringent penalty we could enforce without a release."
"There's not much worse than running out on your teammates in the middle of a ballgame," Hendry said.
Teammate and third baseman Aramis Ramírez said he would welcome him back, but believes that Zambrano needed to change.
"If he changes his attitude, he's more than welcome," Ramírez said. "He's got to think a little bit more. He's one man. It's not just one time. A lot of people have tried to help him. He won't let them."
Posada Loads Up and Delivers
Jorge Posada received a message from his manager, Joe Girardi, that he really didn't want to hear last weekend in Boston. He was going to the bench and would no longer be the club's regular DH. His DH at-bats would be going to Eric Chávez, who had returned from his stint on the disabled list, and would be split among guys like Derek Jeter, Mark Teixeira and Alex Rodríguez, who's still on the DL.
Posada was back in the lineup in his normal role on Saturday – and responded by hitting a grand slam and driving in six runs, as the Yankees beat the Tampa Bay Rays, 9-2.
He had not played since last Saturday in Boston.
"It's special," Posada said. "I got an opportunity [Saturday] to play; it's tough to sit around. It's not easy to be sitting here and look at everybody playing."
Girardi said after the game that he still thinks Posada can help the team win and rewarded him by having him back in the lineup Sunday, but the game was rained out.
Giants Waiting on Beltrán
Carlos Beltrán was the big bat the San Francisco Giants wanted before the trade deadline, and were able to get from the New York Mets in exchange from their top minor league pitching prospect.
Beltrán has missed his last six games due to a sore right hand. He injured his right wrist last Sunday after striking out in the sixth inning. X-rays came back negative, but he still felt pain last Monday. The MRI revealed inflammation on the top and side of his hand near the wrist.
The Giants then lost two of three at home without Beltrán to the Pirates, but went to Miami and took two of three at Florida during the weekend.
The Giants are holding back from officially placing Beltrán on the disabled list after having to take that action with outfielder Andres Torres, who fouled a ball of his right calf on Friday.
Beltrán has bounced back from knee injuries that have hampered him over the last two seasons and is hitting .284 with 15 homers and 68 RBIs and 64 runs scored. He is only hitting .244 with only two RBIs in the 11 games he's played in for San Francisco.
The Giants are two games behind the NL West-leading Arizona Diamonbacks.
Magic in Toronto
Angels starter Ervin Santana continued his dominance Friday night in Toronto.
Santana won his fifth straight start and pitched his fourth complete game of the season to lead Los Angeles past the Blue Jays, 5-1. He allowed one run and seven hits while walking two and striking out six.
He gave up a homer to Eric Thames in ninth inning with one out.
Santana improved to 6-0 with a 1.50 ERA in his last nine starts. During that stretch he tossed a no-hitter at Cleveland on July 27.
"I feel the same way every time," Santana told reporters "Everything works how I want. It is [a good feeling], especially in the second half, when we need it."
Adry Torres, who has covered MLB, NFL, NBA and NCAA basketball games and related events, is a regular contributor to Fox News Latino. He can be reached at elpiloto137@gmail.com or follow him on Twitter: @adrytorresnyc.
Follow us on twitter.com/foxnewslatino
Like us at facebook.com/foxnewslatino