Yunel Escobar Making The Most Of His Time As Tampa Bay Ray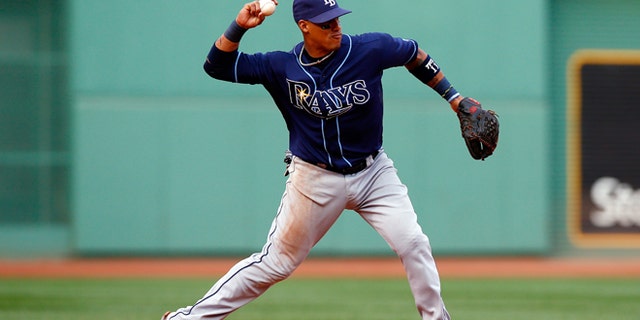 PORT CHARLOTTE, Fla. (AP) – Yunel Escobar is coming off the best season of his career, and the Tampa Bay Rays believe their slick-fielding shortstop can be even better in 2014.
The native of Cuba shrugged off a slow start to post solid numbers offensively a year ago, however stellar defense was his biggst contribution to a team that reached the playoffs for the fourth time in six seasons.
Largely viewed as an underachiever with the Atlanta Braves and Toronto Blue Jays, Escobar led all major league shortstops with a .989 fielding percentage in his first year in Tampa Bay, which acquired him in a trade from the Miami Marlins last winter.
Rays manager Joe Maddon felt the 31-year-old deserved to win an AL Gold Glove award and reiterated that sentiment in a conversation with the shortstop this week, when Escobar reported to spring training.
Although there were questions about how Escobar, who was suspended three games in 2012 for wearing eye black displaying an anti-gay slur while playing with the Blue Jays, might fit in with the Rays.
But Maddon never shared those concerns. The manager has few rules for the clubhouse, preferring to create a relaxed atmosphere in which players feel they are trusted and free to be themselves.
"I don't have to tell you what's right and what's wrong. You already know that. ... If they know they are supported in a way that they can be themselves, and it's truthfully and honestly an open environment to work within, you're going to get the best out of the player," Maddon said.
"Guys like (Escobar), I've just got to make sure we get on the same page, understand one another and be open," the manager added. "He knew he could say anything to me that he wanted to at any time. Sometimes things get lost in the translation. You can't permit that to happen."
Escobar hit .259 with nine homers, a career-high 27 doubles and 56 RBIs in 153 games last season. Defensively, he committed just seven errors in 610 chances — three in the final 108 games — while teaming with second baseball Ben Zobrist to form one of the best double-play combinations in baseball.
The duo had a combined 11 errors, matching the fewest for an AL double-play combo in which both players qualified for a fielding crown. Cal and Billy Ripken committed 11 for the Orioles in 1990, and Mark Loretta and Alex Gonzalez had 11 between them for the Red Sox in 2006.
Overall, the Rays committed 59 errors last season — 55 fewer than in 2012, and the second-lowest total in the majors behind Baltimore's 54.
Zobrist, first baseman James Loney and third baseman Evan Longoria joined Escobar in being finalists for Gold Glove awards, though none of Tampa Bay's infielders won.
The shortstop appreciates Maddon's unwavering support, as well as the manager's belief that Escobar was deserving recognition for his defensive prowess last season.
"He treats me with a lot of respect," Escobar said through a translator. "We're here to win. That's really helped me, having that respect in the dugout every time I come back."
Teammates have done their part to make him feel welcome, too.
"People can say what they want from the past, but really I got here on the first day and everything was based off of that," Escobar said. "People can say things about my past and my reputation, but I got to meet the people here and that's what they're basing everything on. That's who I am here, and how I carry myself here."
Follow us on twitter.com/foxnewslatino
Like us at facebook.com/foxnewslatino