Former Baseball Star Faces Firestorm For Border Security Comments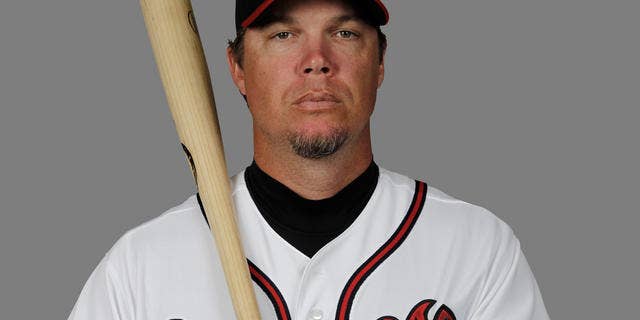 It's unclear what exactly prompted him to do it, but now former Atlanta Braves standout third-baseman Chipper Jones is eating his words.
At least those he posted in a controversial tweet he later took back. And it had actually nothing to do with baseball. For some reason, Jones decided to chime in on the controversial national immigration and border security debate.
His take: Border security needs to be beefed up. Big time.
"Y'all think if they took all them gators they trap in Fla and La and put them in the Rio Grande, it wud stop the illegals from crossing? Jk," he tweeted Saturday.
The dispatch garnered more than 2,000 retweets, more than 1,000 "favorites," and plenty of replies. Most of the Twitter conversation that ensued consisted of arguments debating whether or not the statement was technically offensive.
Jones has more than 300,000 Twitter followers.
Many said that since Jones included "Jk" ("just kidding") at the end of the tweet, he did not mean any harm by it.
"@ChrissieBixler I just think he was making a joke that alot of people took wayyyyyy too seriously," @DawgsAreInAnI tweeted.
That person, @ChrissieBixler, who participated heavily in the conversation, didn't think very highly of Jones' comment.
"@DawgsAreInAnI Listen, I LOVE chipper jones, but I also think his joke at throwing crocs at Mexicans is just a weeee bit racist. No?" @ChrissieBixler replied.
No matter the discussion, and whether he was joking or not, Jones quickly backtracked. He tweeted an apology on Sunday, acknowledging that his attempted joke was more reprehensible than it was funny.
"I realize that my tweet yest was offensive and distasteful. An attempt at humor was a terrible mistake. Please accept my heartfelt apology!" he posted.
During his campaign, former presidential candidate Herman Cain, also from Atlanta, proposed a similar idea in 2011 to deter people from entering the United States illegally: An alligator-infested moat with an shockingly tall fence topped with barbed wire and electricity.
Jones retired from baseball at the end of the 2012 season and earned close to $170 million in his career. The Braves plan to honor him by retiring his No. 10 jersey at a ceremony on June 28.
Follow us on twitter.com/foxnewslatino
Like us at facebook.com/foxnewslatino