Your guide to the worst sports day of the year: dive into MLS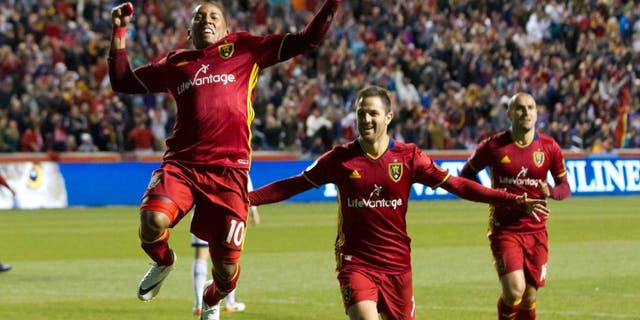 NEWYou can now listen to Fox News articles!
Today is the worst sports day of the year. None of the traditional big four American sports have games today. For many people, it is a day to go outside, see the sun, maybe even have a meaningful in-person conversation with another human being about something other than a bunch of sweaty people playing with a ball.
Or you could watch MLS. You should probably watch MLS (which is a thing you should do regularly anyway).
While the rest of the sports world takes off, MLS realized that they have the night to themselves and have scheduled six matches. Instead of having a life or reaquainting yourself with the outside world, you can plant yourself on the couch tonight and watch soccer from 7 p.m. ET until 12:30 a.m. Doesn't that sound a lot better than speaking to other people?
The night kicks off with the Why Aren't They Better? Cup as Columbus Crew SC host Toronto FC. Both teams were popular picks to win the East in the preseason but are struggling. Toronto are fighting for a playoff spot while Columbus are second from the bottom, but they're still talented and you can watch Sebastian Giovinco. Always watch Sebastian Giovinco.
From there, you have choices as two other games get underway: The New York Red Bulls vs. Orlando City and the Chicago Fire vs. Sporting Kansas City. But that's not a difficult choice because you should never watch the Fire.
That means New York and Orlando, which means two teams that like to score a lot of goals and sometimes even concede a lot of goals. The Lions have also accounted for about half of the most insane, unbelievable finishes in MLS this season.
When the action turns out west at 10:30 p.m., you might be tempted to go to sleep, but sleep is for the weak. Take a stroll around your block, catch some Pokemon (do this with headphones on so no one dares talk to you) and then get back inside for more soccer.
The Western Conference playoff race is a mess, with third place and seventh place -- the team that gets left out of the postseason -- separated by four points. That's especially fun because Real Salt Lake, third place, and the Vancouver Whitecaps, tied for sixth, are squaring off tonight. Desperation makes for good soccer. And then there's the Seattle Sounders, who are the worst team in MLS with no signs of a turnaround and playing at home in front of a crowd that could turn on them any second, against FC Dallas, who just so happen to be the top team in the league. So if you're into a potential season-changing match or outright implosion, that's not a bad one. Or you could watch the defending MLS Cup champion Portland Timbers host a Montreal Impact team that features Ignacio Piatti, the league's second leading scorer.
One night, six matches and absolutely no other sports going on. Get your fill of MLS. If the soccer doesn't sell you -- and it should because MLS is the king of chaos and chaos is great -- then just consider that the alternative is human interaction. Plus, if you're really real, you will show your couch the loyalty it deserves.
MORE FROM FOX SOCCER