Young Badgers Tracker: Ingold makes most of opportunity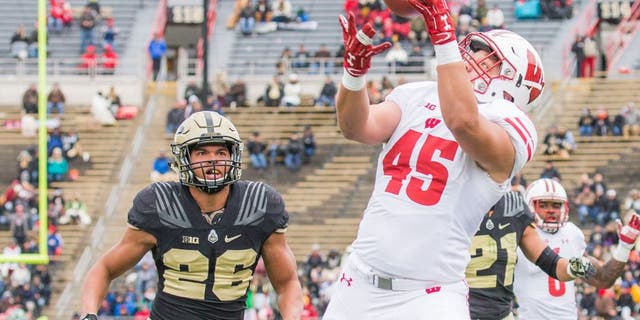 NEWYou can now listen to Fox News articles!
It's time for another update on the playing time and statistics of the younger players on the roster of the Wisconsin Badgers.
Due to a banged-up backfield, Alec Ingold was given a big opportunity to play as a freshman in 2015 and while he didn't rack up the yards, he was successful as a short-yardage back and scored six rushing touchdowns.
This year, however, Wisconsin's backfield group is in better shape and Ingold's role has been as the backup fullback to Austin Ramesh. Ingold had gotten a handful of carries this year -- 13 entering last Saturday -- but nothing compared to last season, when he had 49 carries.
But with Ramesh hurt, Ingold has gotten more playing time and against Purdue he had a season-high four carries, scoring a touchdown on a 1-yard run.
Ingold's biggest play, though, was a 19-yard touchdown reception from Bart Houston in which he was wide open. Why was Ingold so open? Well, Wisconsin ran 30 plays on first downs against the Boilermakers and ran the ball on 29 of those.
Yes, Ingold's TD was the only pass Wisconsin executed on first down. Certainly, a pass to a nearly 240-pound fullback --- who had five career catches -- down the field couldn't have been expected. But Ingold now has two receiving touchdowns, which is tied for second on the Badgers.
Here's the complete rundown of young Badgers with season stats:
"TRUE" FRESHMEN
Quintez Cephus, WR
LSU: Played, did not record a statistic
Akron: 1 reception, 10 yards
Georgia State: Played, did not record a statistic
Michigan State: Played, did not record a statistic
Michigan: Played, did not record a statistic
Ohio State: Played, did not record a statistic
Iowa: Started, 1 receptions, 57 yards
Nebraska: Played, did not record a statistic
Northwestern: Started, did not record a statistic
Illinois: Started, did not record a statistic
Purdue: Started, 1 reception, 5 yards; 2 rushes, 10 yards
Season totals: 3 receptions, 72 yards; 2 rushes, 10 yards
Griffin Grady, OLB
LSU: Did not play
Akron: 1 tackle (solo)
Georgia State: Played, did not record a statistic
Michigan State: Played, did not record a statistic
Michigan: Played, did not record a statistic
Ohio State: 1 tackle
Iowa: Played, did not record a statistic
Nebraska: Did not play
Northwestern: Played, did not record a statistic
Illinois: 2 tackles (1 solo)
Purdue: Played, did not record a statistic
Season totals: 4 tackles (2 solo)
Patrick Johnson, S
LSU: Did not play
Akron: 2 tackles (1 solo)
Georgia State: Played, did not record a statistic
Michigan State: Played, did not record a statistic
Michigan: Played, did not record a statistic
Ohio State: Played, did not record a statistic
Iowa: Played, did not record a statistic
Nebraska: Played, did not record a statistic
Northwestern: Played, did not record a statistic
Illinois: Played, did not record a statistic
Purdue: Played, did not record a statistic
Season totals: 2 tackles (1 solo)
Anthony Lotti, P
LSU: Did not play
Akron: 2 punts, 75 yards, 1 inside 20
Georgia State: 2 punts, 72 yards, 1 inside 20
Michigan State: 5 punts, 204 yards, 2 inside 20
Michigan: 5 punts, 174 yards, 2 inside 20
Ohio State: Did not play
Iowa: 4 punts, 123 yards, 2 inside 20
Nebraska: 5 punts, 196 yards
Northwestern: 7 punts, 261 yards, 6 inside 20
Illinois: 4 punts, 148 yards, 2 inside 20
Purdue: 3 punts, 105 yards, 2 inside 20
Season totals: 37 punts, 1,358 yards (36.7 avg.), 18 inside 20
Garrett Rand, NT
LSU: Played, did not record a statistic
Akron: 1 tackle (solo)
Georgia State: Played, did not record a statistic
Michigan State: Played, did not record a statistic
Michigan: Played, did not record a statistic
Ohio State: Played, did not record a statistic
Iowa: Played, did not record a statistic
Nebraska: 2 tackles (1 solo)
Northwestern: Played, did not record a statistic
Illinois: Played, did not record a statistic
Purdue: Played, did not record a statistic
Season totals: 3 tackles (2 solo)
A.J. Taylor, WR
LSU: 1 rush, -1 yard
Akron: 2 receptions, 39 yards
Georgia State: 1 reception, 14 yards
Michigan State: Played, did not record a statistic
Michigan: Did not play
Ohio State: Played, did not record a statistic
Iowa: 2 rushes, 24 yards
Nebraska: Played, did not record a statistic
Northwestern: 1 rush, -4 yards
Illinois: Played, did not record a statistic
Purdue: Played, did not record a statistic
Season totals: 3 receptions, 53 yards; 4 rushes, 19 yards
Have not played
Luke Benzschawel, TE; Tyler Biadasz, OL; Sam Brodner, RB; Noah Burks, OLB; Eric Burrell, S; Dontye Carriere-Williams, CB; Seth Currens, S; Jack Dunn, FR; Garrett Groshek, QB; Jake Hescock, TE; Dallas Jeanty, ILB; Patrick Kasl, OL; Adam Krumholz, WR; Gabe Lloyd, TE; Isaiahh Loudermilk, DE; Kare Lyles, QB; Mike Maskalunas, ILB; Aaron Maternowski, FB; Jack Popp, WR; Keldric Preston, WR; Mason Stokke, ILB; Hegeman Tiedt, DE; Cole Van Lanen, OL; Cristian Volpentesta, DB; Caesar Williams
REDSHIRT FRESHMEN
Connor Allen, P
LSU: Played, did not record a statistic
Akron: Played, did not record a statistic
Georgia State: Played, did not record a statistic
Michigan State: Played, did not record a statistic
Michigan: Did not play
Ohio State: Played, did not record a statistic
Iowa: Played, did not record a statistic
Nebraska: Played, did not record a statistic
Northwestern: Played, did not record a statistic
Illinois: Played, did not record a statistic
Purdue: Played, did not record a statistic
Season totals: n/a
Zack Baun, OLB
LSU: 1 tackle (solo)
Akron: 2 tackles (1 solo), 1 TFL
Georgia State: 1 tackle (solo), 1 TFL, 1 FF
Michigan State: 2 tackles (solo)
Michigan: 2 tackles (1 solo), .5 TFL
Ohio State: 6 tackles (3 solo), 1 TFL
Iowa: Did not play
Nebraska: Played, did not record a statistic
Northwestern: Played, did not record a statistic
Illinois: Played, did not record a statistic
Purdue: Did not play
Season totals: 14 tackles (9 solo), 3.5 TFL, 1 FF
Titus Booker, CB
LSU: Played, did not record a statistic
Akron: 4 tackles (3 solo)
Georgia State: Played, did not record a statistic
Michigan State: 1 tackle (solo)
Michigan: Played, did not record a statistic
Ohio State: Played, did not record a statistic
Iowa: 1 tackle (solo)
Nebraska: Played, did not record a statistic
Northwestern: Played, did not record a statistic
Illinois: Played, did not record a statistic
Purdue: Played, did not record a statistic
Season totals: 6 tackles (5 solo)
Jon Dietzen, OL
LSU: Played, did not record a statistic
Akron: Started, did not record a statistic
Georgia State: Did not play
Michigan State: Did not play
Michigan: Did not play
Ohio State: Did not play
Iowa: Played, did not record a statistic
Nebraska: Started, did not record a statistic
Northwestern: Started, did not record a statistic
Illinois: Started, did not record a statistic
Purdue: Started, did not record a statistic
Season totals: n/a
Ian Dretzka, OL
LSU: Did not play
Akron: Played, did not record a statistic
Georgia State: Did not play
Michigan State: Did not play
Michigan: Did not play
Ohio State: Did not play
Iowa: Did not play
Nebraska: Did not play
Northwestern: Did not play
Illinois: Played, did not record a statistic
Purdue: Did not play
Season totals: n/a
David Edwards, OL
LSU: Played, did not record a statistic
Akron: Played, did not record a statistic
Georgia State: Played, did not record a statistic
Michigan State: Played, did not record a statistic
Michigan: Did not play
Ohio State: Played, did not record a statistic
Iowa: Played, did not record a statistic
Nebraska: Started, did not record a statistic
Northwestern: Started, did not record a statistic
Illinois: Started, did not record a statistic
Purdue: Started, did not record a statistic
Season totals: n/a
Jason Erdmann, OL
LSU: Did not play
Akron: Played, did not record a statistic
Georgia State: Played, did not record a statistic
Michigan State: Played, did not record a statistic
Michigan: Played, did not record a statistic
Ohio State: Played, did not record a statistic
Iowa: Played, did not record a statistic
Nebraska: Played, did not record a statistic
Northwestern: Played, did not record a statistic
Illinois: Played, did not record a statistic
Purdue: Played, did not record a statistic
Season totals: n/a
Alex Hornibrook, QB
LSU: Did not play
Akron: 5-for-5, 61 yards, TD
Georgia State: 8-for-12, 122 yards, TD, INT
Michigan State: 16-for-26, 195 yards, TD, INT
Michigan: 9-for-25, 88 yards, TD, 3 INT
Ohio State: 16-for-28, 214 yards, TD, INT
Iowa: 11-for-19, 197 yards
Nebraska: 10-for-16, 71 yards, TD, INT
Northwestern: 11-for-19, 92 yards
Illinois: 7-for-12, 85 yards, TD
Purdue: 7-for-9, 89 yards, TD
Season totals: 100-for-171, 1,214 yards, 8 TD, 7 INT
Tyler Johnson, OLB
LSU: Played, did not record a statistic
Akron: Played, did not record a statistic
Georgia State: Did not play
Michigan State: Did not play
Michigan: Did not play
Ohio State: Played, did not record a statistic
Iowa: Played, did not record a statistic
Nebraska: Did not play
Northwestern: Played, did not record a statistic
Illinois: Played, did not record a statistic
Purdue: Played, did not record a statistic
Season totals: n/a
David Moorman, OL
LSU: Did not play
Akron: Played, did not record a statistic
Georgia State: Played, did not record a statistic
Michigan State: Played, did not record a statistic
Michigan: Played, did not record a statistic
Ohio State: Played, did not record a statistic
Iowa: Played, did not record a statistic
Nebraska: Played, did not record a statistic
Northwestern: Played, did not record a statistic
Illinois: Played, did not record a statistic
Purdue: Played, did not record a statistic
Season totals: n/a
Kyle Penniston, TE
LSU: Played, did not record a statistic
Akron: Played, did not record a statistic
Georgia State: 3 receptions, 35 yards, TD
Michigan State: Played, did not record a statistic
Michigan: Played, did not record a statistic
Ohio State: Did not play
Iowa: 1 reception, 54 yards
Nebraska: Did not play
Northwestern: Started, did not record a statistic
Illinois: 1 reception, 7 yards, YD
Purdue: Did not play
Season totals: 5 receptions, 96 yards, 2 TD
Max Praschak, OLB
LSU: Did not play
Akron: Did not play
Georgia State: Did not play
Michigan State: Did not play
Michigan: Did not play
Ohio State: Did not play
Iowa: Did not play
Nebraska: Did not play
Northwestern: Did not play
Illinois: 1 tackle (solo)
Purdue: Played, did not record a statistic
Season totals: 1 tackle (solo)
Bradrick Shaw, RB
LSU: Played, did not record a statistic
Akron: 9 rushes, 77 yards, TD
Georgia State: 15 rushes, 62 yards
Michigan State: Did not play
Michigan: Did not play
Ohio State: 1 rush, 6 yards
Iowa: 1 rush, 8 yards
Nebraska: 2 rushes, 23 yards, TD
Northwestern: 11 rushes, 54 yards
Illinois: 19 rushes, 80 yards, TD; 1 reception, 6 yards
Purdue: 8 rushes, 68 yards, 2 TD
Season totals: 66 rushes, 375 yards (5.7 avg.), 5 TD; 1 reception, 6 yards
Jake Whalen, OLB
LSU: Did not play
Akron: Did not play
Georgia State: Did not play
Michigan State: Did not play
Michigan: Did not play
Ohio State: Did not play
Iowa: Did not play
Nebraska: Did not play
Northwestern: Did not play
Illinois: Played, did not record a statistic
Purdue: Played, did not record a statistic
Have not played; Kevin Estes, OL; Mitchell Herl, TE; Zach Hintze, K; Henry Houden, WR; Kraig Howe, DE; Troy Laufenberg, RB; Blake Mielke, S; David Plaff, DE; Gunner Roberge, NT; Kelly Thomas, DE; Nick Thomas, ILB; Bret Verstegen, S
"TRUE" SOPHOMORES
Arrington Farrar, S
LSU: 1 tackle (solo), 1 forced fumble
Akron: Played, did not record a statistic
Georgia State: Played, did not record a statistic
Michigan State: 2 tackles (1 solo)
Michigan: 1 tackle (solo)
Ohio State: 1 tackle (solo)
Iowa: Played, did not record a statistic
Nebraska: 1 tackle
Northwestern: Played, did not record a statistic
Illinois: Played, did not record a statistic
Purdue: 1 tackle (solo)
Season totals: 7 tackles (5 solo), 1 FF
Alec Ingold, FB
LSU: 1 reception, 2 yards
Akron: 2 rushes, 4 yards; 1 reception, 6 yards, TD
Georgia State: 1 rush, 4 yards; 2 receptions, 13 yards
Michigan State: 3 rushes, 13 yards
Michigan: 1 rush, 2 yards
Ohio State: Played, did not record a statistic
Iowa: Played, did not record a statistic
Nebraska: 1 rush, 1 yard
Northwestern: 2 rushes, 5 yards
Illinois: 3 rushes, 8 yards; 1 reception, 15 yards
Purdue: 4 rushes, 6 yards, TD; 1 reception, 19 yards, TD; 1 kick return, 12 yards
Season totals: 17 rushes, 43 yards (2.5 avg.), TD; 6 receptions, 55 yards, 2 TD
Olive Sagapolu, NT
LSU: 2 tackles (1 solo)
Akron: Played, did not record a statistic
Georgia State: Started, 1 tackle (solo)
Michigan State: Started, did not record a statistic
Michigan: 5 tackles (2 solo)
Ohio State: Started, did not record a statistic
Iowa: Did not play
Nebraska: Did not play
Northwestern: Did not play
Illinois: Did not play
Purdue: Did not play
Season totals: 8 tackles (4 solo)
Injured, out for season
Chris Orr, ILB
Dave Heller is the author of the upcoming book Ken Williams: A Slugger in Ruth's Shadow as well as Facing Ted Williams Players From the Golden Age of Baseball Recall the Greatest Hitter Who Ever Lived and As Good As It Got: The 1944 St. Louis Browns