Yankees trade Beltrán and Nova, struggles to avoid first losing season since 1992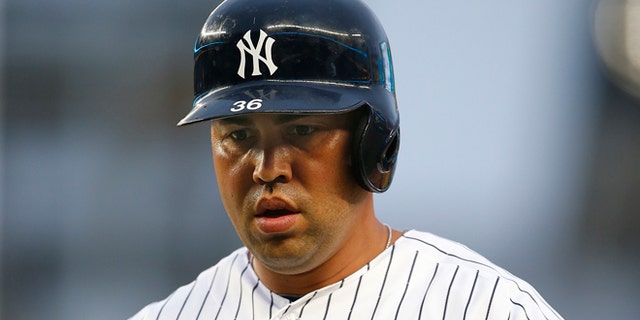 NEWYou can now listen to Fox News articles!
NEW YORK (AP) – The Yankees' latest dynasty ended seven years ago. Any pretense of trying to win now stopped Monday.
Outfielder Carlos Beltrán and pitcher Ivan Nova followed Aroldis Chapman and Andrew Miller out of the Bronx. Instead of contending for their accustomed playoff spot and a 28th World Series title, the Yankees will fight to avoid their first losing season since 1992.
After peaking at 56-52 last week, the Yankees dropped back to .500 with four straight losses, including a three-game weekend sweep by last-place Tampa Bay.
"A true playoff contender, you know, not a playoff pretender, wouldn't do that," general manager Brian Cashman said bluntly before the Yankees' 6-5, 10-inning win at the Mets in the Subway Series opener.
And so, the Yankees will resemble other rebuilding teams for the immediate future. In exchange for four veterans, New York received 10 prospects — three of them highly rated — plus pitcher Adam Warren and two players to be named.
"We're kind of in unfamiliar territory with the Yankees," said first baseman Mark Teixeira, whose eight-year contract ends this year. "You can't just win through free agency. That's not the way it works anymore."
Beltrán, at age 39 the top player in the Yankees' lackluster offense, was sent to Texas for right-hander Dillon Tate, the fourth overall pick in the 2015 amateur draft, and right-handers Nick Green and Erik Swanson.
"This organization has never been this," Beltrán said. "But it's the new baseball, man. It's the new generation. Organizations no longer are making dumb decisions."
Nova, who like Beltrán is eligible for free agency after the World Series, was sent to Pittsburgh for two players to be named. While 53-39 for the Yankees, Nova was inconsistent since his return from Tommy John surgery.
"It's a new chapter," Yankees manager Joe Girardi said. "There's going to be some young guys that get a chance, and I'm excited about that."
Cashman made the moves with management's go-ahead just ahead of the non-waiver trade deadline.
"I believe that you can win with the players in that room," Girardi insisted. "Some people are probably going to think that I'm delusional, but I mean, there's no reason to put the uniform on if you don't believe that you can win."
Fans will closely follow the restocked farm system.
Tate was the top pitcher selected in the 2015 draft. Outfielder Clint Frazier, the fifth overall pick in the 2013 draft, was acquired from Cleveland on Sunday in the trade for Miller. Venezuelan shortstop Gleyber Torres was obtained from the Chicago Cubs last week in the Chapman deal.
New York has played one postseason game since 2012, losing to Houston in last year's AL wild-card matchup. Patching the roster with free agents in the post-Derek Jeter and Mariano Rivera era was not working.
"Brian and his staff and the organization is trying to put this team in a good position to have a long run of not just playing well, but winning championships," Girardi said. "It's not about being ... a second wild-card team and winning one game or losing one. We want to win championships."
Tate, 22, received a $4.2 million signing bonus from the Rangers and is 3-3 with a 5.12 ERA this year in 16 starts and one relief appearance for Class A Hickory in the South Atlantic League.
Green was taken in the seventh round of the 2014 draft and Swanson in the eighth. New York agreed to send Texas $3,708,333 on Dec. 31 to offset part of the just over $5 million remaining in Beltrán's $15 million salary.
A 39-year-old switch-hitter, Beltrán led the Yankees with a .304 batting average, 22 homers and 64 RBIs.
"I think as a player, you know that this moment could happen. But when it happens, it hits you," Beltrán said.
Nova, 7-6 with a 4.90 ERA in 15 starts and six relief appearances, thought at 3:55 p.m. "OK, I'm not going to get traded. I'm going to stay here."
He was running on a treadmill in the weight room when Yanks bullpen catcher Ramon Rodriguez told him about the trade. He rejoins former Yankees catcher Francisco Cervelli with Pirates.
"We grew up in this organization," the pitcher said.
Notes: Reliever Tyler Clippard rejoined the Yankees, his original team, a day after he was acquired from Arizona for minor league right-hander Vicente Campos. Clippard said he understands why Chapman and Miller were prized: "That's what the game is now. Back end of the bullpen."
Like us on Facebook
Follow us on Twitter & Instagram