Yair Rodriguez reveals how Jon Jones became a friend and mentor to him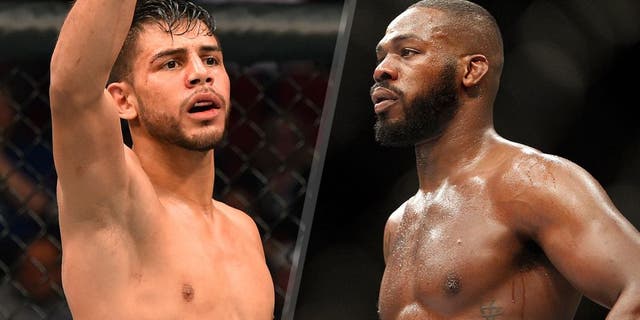 NEWYou can now listen to Fox News articles!
Yair Rodriguez is one of the fastest rising stars in the UFC, but despite his own celebrity status the 23-year-old Mexican-born fighter was still in awe to get the chance to work with one of his heroes in MMA, former light heavyweight champion Jon Jones.
Rodriguez has spent a lot of time training at Team Jackson/Winkeljohn in New Mexico, where he routinely works with fighters such as Diego Sanchez, Carlos Condit and Donald "Cowboy" Cerrone, but the young featherweight says meeting Jones was a really incredible moment.
"It was very good for me. At Jackson's I had the opportunity to meet a lot of fighters that I used to see on TV and now I get to go in there and train with them," Rodriguez told FOX Sports.
"I got the opportunity to meet Jon Jones, who was one of my principle inspirations in this sport. I've been talking with that guy about so much stuff, it's been helping me a lot."
Jones is still currently on an indefinite suspension from the UFC after being arrested and charged in a hit-and-run accident in April that also saw him stripped of the light heavyweight title.
Just recently, Jones was placed on 18-months' probation for the legal infraction, but it also cleared the way for his return to the UFC, which could happen at any moment.
Rodriguez says Jones has been misjudged in a lot of ways based solely on his arrest and the mistake he made, but the 28-year-old New York native has taken his time off seriously and become a better teammate and coach to many of the up and coming fighters in the gym.
"As a fighter, he's as different as a person. Everybody has hard moments in their lives -- everyone. Everyone can make mistakes in your life. I think Jon committed one mistake and he's trying to fix it. I think that's a good start," Rodriguez said.
"He's talked to me a lot. He hoped to be as good as I am when he was my age and that inspires me so much. That's the kind of stuff he tells me all the time. I talk with him all the time. We are very good friends and it's always good to talk to him."
Rodriguez is still in a whirlwind with the success he's found since winning the first season of "The Ultimate Fighter: Latin America" because he's not only becoming one of the most talked about young fighters in the sport, but he's doing so while training with many of his heroes every day.
The best part about working with his particular team is Rodriguez can get advice for every stage of his career, whether it's just starting out in the UFC or when it's finally time to challenge for a title, and he's always learning something new.
"A great relationship with Jon, Holly Holm, 'Cowboy' (Cerrone), Michelle Waterson, all these guys at Jackson's, they are mentors for me," Rodriguez said. "They are friends and partners but they are mentors, too. You always learn something new with someone and you've always got to keep your ears open for new things."
It's a good influence to have around because Rodriguez is quickly rocketing into a new level of fame based on his success in the UFC.
His popularity is very widespread in his home country of Mexico, where Rodriguez is quickly becoming one of the faces of MMA in Latin America.
While Rodriguez loves what fighters such as Cain Velasquez have been able to do to expand the sport in Mexico, he knows that many fans in his home country have been itching for a native to make it to the biggest stage in the sport, and he hopes to always represent them whenever he steps into the Octagon to compete.
"I'm pretty happy. I'm proud of that. Cain Velasquez, he has Mexican blood but he's not Mexican-Mexican. That's always an issue with people," Rodriguez explained. "You never know how people are going to react with something like that. 'He's not Mexican!' is what some Mexican people say, 'He's American!' but now they have a lot of Mexicans in the market and they can support.
"I think that's why they are supporting me a lot."