Xavier's Edmond Sumner is day-to-day, not been diagnosed with concussion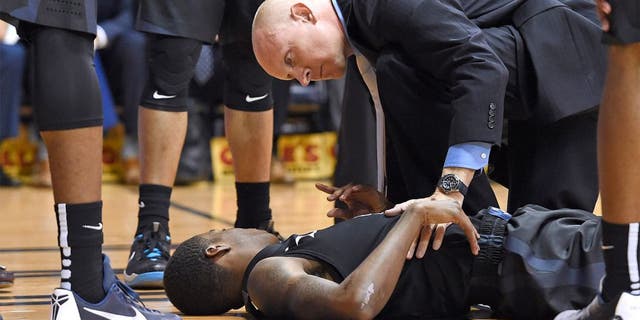 Xavier head coach Chris Mack listed redshirt freshman point guard Edmond Sumner as "day-to-day" on Friday afternoon while speaking with reporters.
Sumner was removed from Thursday's 95-64 loss to Villanova on a stretcher after taking a scary fall less than three minutes in. He was released from the hospital and rejoined his team for the flight home to Cincinnati.
Here is what Mack said to reporters, via Shannon Russell of the Cincinnati Enquirer:
With 17:30 remaining in the first half, the 6-foot-6 Sumner collided with Villanova's Josh Hart and Kris Jenkins on a layup attempt. Sumner took the brunt of hit, as it appears Jenkins fell on top of him as he went crashing to the floor. He was taken off on a stretcher and sent to a local hospital. It was reported later in the half that he had movements in his extremities.
Sumner is second on the team in scoring at 11.0 points per game. He has started every game and helped the Musketeers get off to the best start in school history.
No. 6 Xavier hosts No. 9 Butler on Saturday at 1 p.m., the second game in FS1's Big East marathon.