WORLD CUP 2014: With confidence restored and fans happy, France enters WCup as an outsider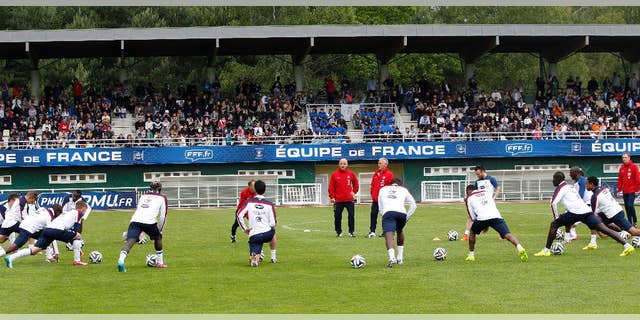 PARIS – Winning back the trust of the fans has proved to be a long and difficult process for France following the training ground strike that shamed the nation at the last World Cup.
The incredible scenes of joy at the final whistle when France beat Ukraine 3-0 in October — overturning a 2-0 deficit from the first leg — underlined just how much this meant to long-suffering fans.
France's display on that tense night will go down in the nation's football folklore, and rightly so. It was full of the flair, passion and sheer exuberance once a hallmark of the team that won the 1998 World Cup, the 2000 European Championship and reached the World Cup final in 2006.
As the Stade de France crowd sang at the final whistle, the players joined in and unity was restored. Now, France heads to Brazil with relatively little pressure in the role of dangerous outsider.
France failed to win a game four years ago in South Africa and scored only one goal. This time it stands a good chance of winning Group E ahead of Switzerland, Ecuador and Honduras, and avoiding a possible second-round encounter with Argentina.
Following the retirement of Zinedine Zidane after the 2006 final, France lacked leadership and invention. The team was a fading force in South Africa, with Thierry Henry on his last legs, and others like Florent Malouda and Nicolas Anelka failing to live up to their reputations.
Euro 2012 was better, until France played Spain and was easily beaten in the quarterfinals. Both of those tournaments were marred by player unrest.
The current side looks far more cohesive and team spirit has genuinely been restored under coach Didier Deschamps, who has players approaching peak form.
Striker Karim Benzema is finally fulfilling his potential and was superb for Real Madrid toward the end of the season, while 21-year-old Paul Pogba is one of the most highly coveted midfielders in world football. Add the creative spark of Bayern Munich winger Franck Ribery, the tenacious midfield tackling of Blaise Matuidi and the crisp passing of Yohan Cabaye and France has enough quality to threaten most teams.
With the midfield and forward line settled, the area France needs to sort out is defense.
Left back Patrice Evra looks likely to keep his place, although that seems to be more through lack of competition for places rather than form, while the right back slot is between Bacary Sagna and Mathieu Debuchy.
Eliaquim Mangala is making a late bid to take one of the center half places but Deschamps is likely to pick Laurent Koscielny alongside Raphael Varane.
Koscielny is prone to giving away penalties and has a volatile temperament — he was sent off in the first leg against Ukraine in Kiev. However, the Arsenal defender remains a good reader of the game and his passing from the back is useful to start attacks.
Goalkeeper Hugo Lloris remains the undisputed first choice and team captain.