WORLD CUP 2014: Louis van Gaal gets 2nd shot at World Cup glory in his final tournament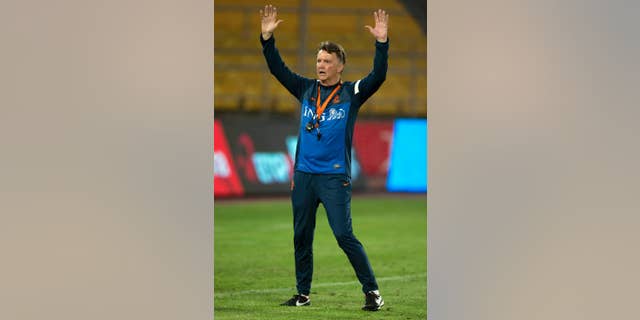 AMSTERDAM – Louis van Gaal has had enough of being Netherlands coach.
The 62-year-old Dutchman is ready, he said in a recent interview, to retire to his house in Portugal and spend more time with his family, or maybe try managing an English Premier League team, if the right offer comes along.
Asked why he announced well before the World Cup that he would quit at the end of the tournament, the outspoken Van Gaal told Dutch daily Algemeen Dagblad: "Because after two years I'm totally sick of being national coach."
It was a typically provocative comment from a coach who has never backed away from conflicts, whether with reporters questioning his tactics or star players unwilling to follow his orders.
But before he heads for retirement in Portugal, he has one more career dream to fulfill at the World Cup.
Brazil will mark Van Gaal's first appearance on football's biggest stage, a glaring omission on the resume of a coach who has won national league titles in the Netherlands with Ajax and AZ Alkmaar, Spain with Barcelona and Germany with Bayern Munich as well as the 1995 Champions League with Ajax, among a host of other trophies.
The major blemish on his record came in his first stint as Dutch national coach, when the team failed to qualify for the 2002 World Cup, finishing third in qualifying behind Portugal and Ireland.
It was a stunning setback for a coach used to molding players into attacking and exciting teams.
He has plenty of work on his hands ahead of Brazil as he rebuilds the team that was humiliated at the last European Championship two years ago, losing all three of its group matches.
Van Gaal is a tough task master with an often prickly relationship with senior players.
But, as he proved in leading Ajax to the Champions League title, he works well with talented youngsters and he has plenty of inexperienced players to mold into a team to challenge for honors in Brazil — he has given 25 players debuts since taking over in 2012.
"It is all about team spirit," Van Gaal said of team building for Brazil. "Having everybody pull in the same direction."