With third win against Portland, Marc Gasol is one step closer to title that eluded his big brother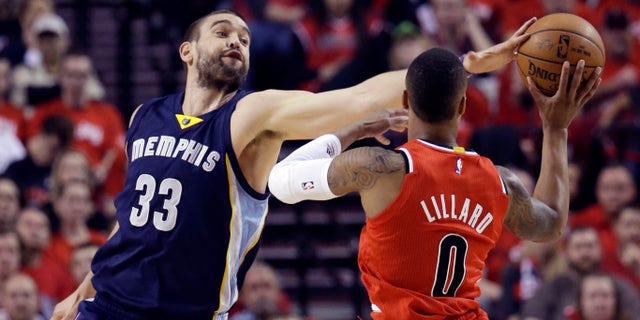 NEWYou can now listen to Fox News articles!
MEMPHIS, Tenn. (AP) – Marc Gasol is a creature of habit, a player who embraces his daily routine and assesses what must be done next at the day's end.
The task at hand for "Big Spain," a nickname bestowed on him by teammates, is helping Memphis — yes, the Grizzlies — win an NBA title after helping them make their fifth straight playoff appearance.
Gasol says this is the fun time of year and how basketball is supposed to be.
The Grizzlies have reached more playoff milestones with Gasol than they did with his big brother, Pau. Marc would also like to make the Gasols the first NBA siblings to both win championship rings.
Memphis is the midst of the best stretch in franchise history, including making its first Western Conference finals appearance in 2013. Now Gasol has helped the Grizzlies build a 3-0 lead in their opening series with Portland.
"It's a good feeling to be playing in the playoffs and to be doing it pretty much every year now, to make a habit of being in the playoffs and playing this kind of basketball," Gasol said. "But it's fun. ... It's what you play for. ... It's a good feeling."
Pau is keenly aware of how much "fun" little brother is having.
"I've seen tremendous growth in Marc since he got to the NBA," said Pau, who is on his own championship quest in the Eastern Conference with the Chicago Bulls. "He's turned into a heck of a player, probably one of the top centers in the NBA the last few years. I'm very proud of what he's done, how he's leading, anchoring that Memphis team and how far they've come along."
Gasol's seventh season has been his best, not bad for the league's defensive player of the year in 2013. He was voted an All-Star starter for the first time and averaged a career-best 17.4 points per game.
The 7-foot-1 center scored 20 or more points 27 times this season after doing it just 17 times his first six seasons. He topped 30 points five times, including a career-high 33 in the regular season finale to clinch home-court advantage for the opening round.
"His ceiling is as high as he wants it to be," Memphis coach Dave Joerger said of Gasol during the season. "Great players always come back with something new, and he does that. He loves the game and wants to get better and better."
Gasol, 30, came back this season with a more aggressive attitude.
He is shooting more and not simply distributing the ball to his teammates. Gasol took the most shots he's ever attempted with 1,072 — 203 more than in any previous season — and made a career-best 530.
His play early this season had Memphis fans chanting "MVP" as the Grizzlies reached 40 wins the fastest in franchise history.
Gasol's performance raises the question where he and Pau rate among siblings who have played in the league. If they aren't at the top, they are trending in that direction — especially if Marc joins Pau in the NBA champion's club.
There have been at least 16 sets of brothers to play in the NBA with one of the siblings winning a title, according to STATS. Of those tracked, seven sets of brothers have won multiple titles, including the Gasols — though Pau has all his family's rings.
Pau won his titles with the Lakers in 2009 and 2010 after the trade that brought his little brother to Memphis.
If Marc and the Grizzlies win it all, the Gasols would be the first siblings to each have NBA titles.
The Gasols already rank fourth for the most combined points by brothers with 25,307 points trailing only Dominique and Gerald Wilkins (38,404), Dick and Tom Van Arsdale (29,311), Bernard and Albert King (26,125).
Marc is poised to become a free agent this summer. Memphis can offer him the most money, but Gasol isn't overly concerned about his future, not currently anyway.
"I don't think it's the moment" to discuss contracts, Gasol said. "I don't think it can help me or my teammates or my team at all, so nothing to worry about. I think it's time to play ... I'm a day to day kind of guy so my goal today is to do a good job against the Blazers."
Nothing seems to distract Gasol right now.
A sign was spotted in Portland's locker room before the Portland series opener featuring a list of motivational sayings including, "We don't lose to Spanish players." Gasol, a Barcelona native, downplayed the potentially explosive stunt.
"As far as I know, none of you are Spanish," Gasol said. "I hope nobody's bothered by that."
It hasn't seemed to bother Gasol, then again, nothing much does.