With kneeling controversy and ACL injury in the past, Megan Rapinoe sees a better fit for USWNT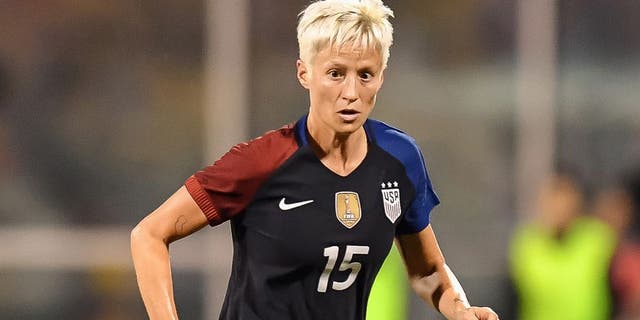 PORTLAND, Ore. -- Megan Rapinoe is only now getting back to normal after what, she admits, was a year of ups and downs.
With an ACL injury, a disappointing end to the U.S. national team cycle and controversy over her protests during the national anthem last year now behind her, things are settling down for Rapinoe again.
"My sister told me maybe my Saturn was returning or something and that's why everything got wild. I was like, 'That makes a lot of sense I don't know what it is, but it sounds f***ing wild,'" Rapinoe said, laughing.
It's easy to see that 31-year-old Rapinoe feels good about the new year. With the Seattle Reign, she is playing well perhaps even better than her two goals in four games so far this season suggests. She says she feels "a lot stronger and a lot fitter" than she's ever been in the NWSL and she's had a long offseason to work on it.
Steven Bisig/Steven Bisig-USA TODAY Sports
After quickly coming back from an ACL injury last year and playing her first matches in nearly a year during the Olympics, Rapinoe looked like she was fading from the USWNT picture. Coach Jill Ellis has made a big post-Rio push to look at new, younger players and Rapinoe didn't feature in the USWNT's final four matches of 2016. Ellis said there was a lot of competition on the wing, where Rapinoe plays.
When Rapinoe re-joined the team for camp for a pair of friendlies last month, she subbed on late in both games, once for 19-year-old Mallory Pugh and once 21-year-old Rose Lavelle. The changing dynamics of the national team were fully on display Ellis seemed intent on finding young players who can lead the way at the 2019 World Cup … and that could leave players like Rapinoe on the outside looking in.
But there's another part of Ellis' efforts to change the USWNT that Rapinoe thinks could benefit her: an increasing emphasis on possession-style soccer. The USWNT has long been known for its direct, long-ball style, but Ellis appears intent on transitioning the team's identity to one that plays out the back and moves the ball up the field more deliberately.
"I think I have unique qualities that other people don't have, that can contribute to the team," Rapinoe said after the Reign's draw to the Portland Thorns on Sunday. "I think the way we are wanting to play or that she's asking us to play really lends to my game, much more than the way we've played my whole career.
"I'm not going to run past anyone so I would prefer to have a lot more players around the ball, so hopefully my play in the NWSL will show her that I'm someone she wants in her squad."
There's a pause and then she adds sarcastically: "I mean, come on." Reporters laugh.
Roster turnover and an influx of youth aside, Rapinoe's break with the national team also happened to come after she began kneeling during the national anthem.
The protest sparked controversy. The owner of the Washington Spirit accused Rapinoe of "hijacking" the anthem and some fans accused Rapinoe of being unpatriotic for doing it during U.S. national team games. Rapinoe said it wasn't an anti-American gesture and it was only meant to point out racial inequity in the United States.
The U.S. Soccer Federation never publicly reprimanded her for it, although both Ellis and Sunil Gulati expressed opposition to it. The federation later codified a mandate that national team players must stand during the anthem, which Rapinoe said she would obey.
Rapinoe doesn't have any regrets about what happened, though.
"The kneeling and everything, I think it really only sort of solidifies who I am as a person and the things that I stand for," she said. "Often times you stand up [for something] and people clap and sometimes you do and they don't. I think it only strengthened my resolve and the things I care about and my ethos of standing up for what I believe in."
The controversy over her protest, which she participated in both during NWSL and USWNT matches, seemed to overshadow her difficulties on the field returning from her ACL injury last year.
By the time Rapinoe subbed in against Colombia during the Olympics group stage, it had been almost nine months since she had played her last competitive match. Ellis argued that Rapinoe's ability crossing the ball and on set pieces made it worth the risk to put Rapinoe on the small 18-player roster for Rio, but Rapinoe was unable to make an impact during the tournament.
In the match where Sweden eliminated the U.S., Rapinoe had been subbed in during the second half, but needed to be subbed out when the match ran into extra time. The team was eliminatedin the quarterfinals, the USWNT's worst finish in a major tournament ever.
"For the great things that happened last year, making it back from an ACL and being able to participate in the Olympics is incredible different lows and different mediums I think it was a sort of 'everything year' for me in a lot of different ways," Rapinoe said. "But it kind of rejuvenated me a little bit.
"After the cycle of a World Cup and an Olympics, it's just difficult so many games and so much pressure. I was able to take a step back because I wasn't being called [for the national team] or being played in the games, I was able to do things that I needed. I'm stronger and fitter this year than I've ever been."
WPPROD
Rapinoe doesn't think she rushed back from her injury before she was ready it just happened quickly because of the Olympics. Ellis, she said, "felt like I was someone who could contribute; everyone knew I wasn't going to play 90 minutes in any of the games."
But it's clear the extra break after the Olympics the months during the NWSL offseason and when she wasn't being called into USWNT camp was good for her. She's still finding her 100 percent form, but she's very close, she said.
She scored a beautiful volley two weeks ago and though she didn't get on the box score Sunday, she was one of the Reign's most active, threatening players. At her best, Rapinoe is arguably one of the most creative, dynamic wingers in the world willing to take players on and try anything. That confidence and that energy are coming back.
After a tumultuous year when she didn't get to do much of the creative soccer-playing that she built her career on, it looks like Rapinoe is finding her footing once again.
MORE FROM FOX SOCCER