With injury behind him, Cardinals' Floyd starting to make impact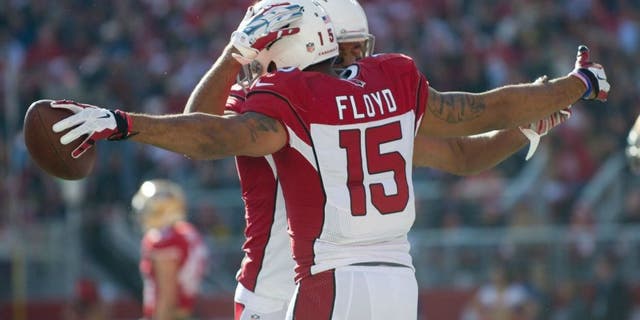 Michael Floyd found the end zone for the first time this season in Week 6. Ed Szczepanski USA TODAY Sports
Michael Floyd has been the forgotten man in the Arizona Cardinals' vaunted passing attack.
With Larry Fitzgerald enjoying a career renaissance and second-year speedster John Brown coming off a career game, it has been easy to overlook Floyd, who had a slow start to the season after undergoing surgery on three dislocated fingers in early August.
Floyd had only two catches in his first three games while working his way back to full health but is starting to make an impact with five receptions in two of his past three games. Not only did Floyd haul in his first touchdown reception last week, but he was inches away from a monster game against the Pittsburgh Steelers.
A questionable offensive pass interference call wiped out an apparent 14-yard scoring pass late in the first half. "I didn't think I pushed him at all," Floyd told reporters, "but you can't leave the game in the refs' (hands)."
Floyd, who had a season-high eight targets in the game and finished with five catches for 50 yards, narrowly missed another TD reception in the third quarter when he was unable to get his second foot inbounds.
"I thought I had it," said Floyd, who went over 1,000 yards in 2013, his second year with the team. "We practice the sideline drill each and every day, and I thought I slid my left foot in there."
MORE NEWS: Want stories delivered to you? Sign up for our NFL newsletters.