Wisconsin looks to force mistakes, protect ball against opportunistic No. 19 Northwestern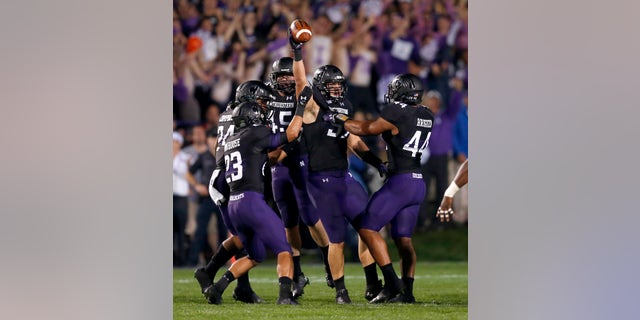 MADISON, Wis. – Turnovers.
No. 19 Northwestern leads the Big Ten in creating mistakes. Wisconsin wants more of 'em.
Forcing flubs is always important, but it may hold even more weight in the game Saturday between two teams that can get up and down the field.
The Badgers are hoping to celebrate homecoming weekend by tripping up the Wildcats and their high-scoring offense at Camp Randall Stadium.
"We've come up short in any of our games thus far. It's a focus this week," Wisconsin linebacker Chris Borland said. "You have to practice it ... and make it second nature come game day."
The Badgers (3-2, 1-1) have forced seven turnovers in five games, but are still fifth in the conference in turnover margin at plus-2, with a league-low five giveaways.
Northwestern (4-1, 0-1), on the other hand, leads the Big Ten in takeaways with 14 — three fumbles and 11 interceptions — and is tied with Nebraska in turnover margin at plus-5.
"We work on it every play, every day," coach Pat Fitzgerald said this week.
Five things to watch ahead of the teams' first meeting in three years:
GETTING OVER IT: Both teams are coming off stinging losses under the lights to Ohio State. Northwestern stumbled 40-30 last week in Evanston. Wisconsin had a bye week to stew about its 31-24 loss at the Horseshoe on Sept. 28. Either way, both clubs are looking to avoid a two-game conference skid.
The Wildcats might have the tougher task against a Wisconsin team that will be rested and playing before what's expected to be another raucous home crowd.
SPEED vs. POWER: Both clubs have elements of both traits. But perhaps no two teams in the Big Ten portray such different personalities as Northwestern and Wisconsin.
Fitzgerald has fostered an offense that starts with the tricky two-quarterback system with Kain Colter and Trevor Siemian. Venric Mark is back at running back after missing three games with a lower body injury. Northwestern has scored at least 30 points in seven straight games going back to last season.
"It's not just one kid. It's four, five, or six special players, and the rest of the supporting cast does a very, very nice job," Wisconsin coach Gary Andersen said.
One of the Badgers' calling cards is the ability to push around opponents with a front five averaging about 320 pounds across. Throw in a couple senior tight ends in Jacob Pedersen and Brian Wozniak.
"They do a lot of motion shift, try to outnumber you at the point of attack," Fitzgerald said. "They do a very, very good job of being able to get into the right place."
FULL STRENGTH: The Badger who has benefited most from that blocking is third-year sophomore Melvin Gordon, the Big Ten's leading rusher at 139.6 yards per game. He's coming off a left knee scare that knocked him out of the Ohio State game.
But Gordon is back and Andersen expects him to resume his normal workload. Other Badgers expected to return after missing varying lengths of time are Pedersen (knee), receiver Kenzel Doe (hamstring) and center Dallas Lewallen (leg).
FINDING KAIN: It's time for another edition of one of the Big Ten's most confusing games, "Where on the field is Kain Colter?"
He's listed as a quarterback. He lines up at receiver, too. And he's Northwestern's second-leading rusher behind Treyvon Green with 47 carries for 253 yards and four touchdowns.
Siemian, the other quarterback, has almost twice as many pass attempts (88) than Colter (47). So finding Colter on the field could lead to a clue of what the Wildcats might be doing. Maybe.
"There are different things they like to do when they bring Colter into the game," Borland said. "Trevor is a great thrower. I think both of them can do it in a great offense."
DOUBLE COVERAGE: Far and away, senior Jared Abbrederis is Wisconsin's top receiving target. It's been no secret since the season started.
Yet, Abbrederis still torches opponents. Against Ohio State, he had career highs of 10 receptions and 207 yards receiving. Wisconsin is hoping the returns of Pedersen and Doe might help draw attention away from their savvy senior wideout.
___
Follow Genaro Armas at http://twitter.com/GArmasAP