Wilmer Flores 'ready to go' for Mets after recovering from illness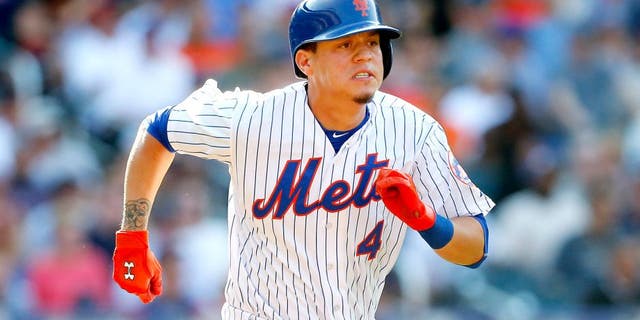 NEWYou can now listen to Fox News articles!
As they enter their NLDS opener against the Dodgers on Friday, one the Mets' biggest surprises of 2015 assures he's geared up and ready to contribute to his team despite a recent bout of strep throat.
"I feel good," Mets middle infielder Wilmer Flores said Thursday. "There's no excuse. I'm ready to go."
Manager Terry Collins revealed to reporters earlier in the week that Flores had lost 10 pounds as a result of having strep throat, and wasn't able to play for the Mets' regular-season finale against the Nationals as a result of his illness and a nagging back injury as well.
Collins has tabbed Ruben Tejada, who matches up better against Dodgers Game 1 starter Clayton Kershaw, to start at shortstop in the NLDS opener on Friday, but the manager and Flores have confirmed that the 24-year-old infielder will be available to play a potential bench role in the game.
Flores surprised the Mets at the plate this season after displaying a frail bat in his first two seasons in the majors.
In 137 games this season, Flores hit .263 with 16 home runs and 59 RBI, most notably granting the Mets three walk-off wins with his bat.