Will Brown get chance to stick it out?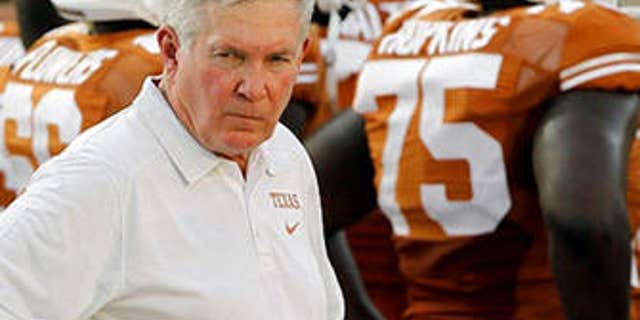 The inevitable is the inevitable and reality is reality. And that's why it looks like Mack Brown is going to be fired as Texas' coach by the end of the season.
And I hedge with "looks like'' because I'm hoping, more than thinking, that there's a chance he won't be.
On Monday, amid rumors that Brown was going to announce his retirement, I asked him if he's going to stick this thing out for the long run. And it didn't surprise me one bit when he answered this way:
"I am. All I can do is worry about what I can control, and I can control helping this football team and our assistant coaches get better. And that's my job ...
"We've had good hard discussions the last two weeks. Nobody here is blinking. We're all going back to work. What happens outside of our building, we can't control. What happens inside our building, we can continue to get better -- and that's my job to do that and I'm going to do it.''
A few weeks ago, I spent about an hour with Brown at his massive office in Austin, Texas, talking about how his program had gotten here, what his role was in its fall and whether times were passing him by. Brown told a very human story of a guy who endured some depression (my word, not his) after losing the national championship game in January 2010 and suffering several deaths in his family.
He acknowledged screwing up most of the next season.
And this year, he had taken several steps to modernize and rejuvenate himself and his program. Now he was good to go. Several players told me he seemed different this year, more energetic. And to be honest, while I bought into what he was saying, I did have some doubts that maybe he was just trying to talk himself into something.
The thing to know is that Brown is not the latest incarnation of a guy who has hung around too long. That's how he is being painted. I went to a Penn State game at Iowa in one of Joe Paterno's last seasons, and it was shocking how Paterno was so confused at what was happening on the field. His assistants were running the program, respectfully.
Brown is just 62, not 102, as people seem to think. His problem isn't confusion. It was a two-year blip.
He rebuilt Texas, brought it a national championship, and then got to another title game. And it just seems so inhuman to see fans booing him after a 1-2 start, following a 9-4 season.
But do you really owe people loyalty in the modern sports world? Maybe not. The program did slip during Brown's blip. Fell dramatically. Recruiting fell like a rock.
It seemed like blatant scapegoating when he fired defensive coordinator Manny Diaz after the second game this year, a defensive disaster against BYU.
And there still is that nagging question about whether Brown really is able to just turn it back on.
More important, what happened to recruiting?
"I do think in some cases we might have looked at some videos, because everybody was going faster, and we looked at highlight films and maybe we took some guys before we really knew them well enough to have taken them,'' Brown admitted to me a few weeks ago. "We might have taken kids a little too quickly.''
And Johnny Manziel? Brown missed out on him, an in-state kid. Reports are that Brown offered him a scholarship to play defense.
No, Brown said. He didn't make an offer to Manziel at all. He said he met with Manziel, and liked him and thought he was a quality quarterback.
Then why no scholarship? Brown didn't answer.
But a source said that Brown was told that Manziel had personal issues and wouldn't fit in at Texas.
After Texas' loss to Mississippi on Saturday, Willie Lyles, the guy who allegedly helped funnel high school prospects to Oregon for cash, was making fun of Brown on Twitter:
"Another week another UT blowout. If your team, fans & alumni are ok with being losers it's cool. If you want to win again give me a call lol.''
And this: "It's 25,000$ per school. The Longhorns can be my first client.''
Maybe that's the modern game Brown needs to play. You have to have an inner scumbag to be a success these days.
A few weeks ago, he talked about moving to an up-tempo offense. He had hired Alabama's player personnel director. He was on Twitter now for recruiting, going after high school sophomores and landing them.
Brown said he was having fun.
Remember: Texas hadn't finished in the top 10 for 15 years before Brown took over in 1998.
Under Brown, it spent most of 2001-09 in the top 10.
Maybe fans don't have to remember those things. It has been a few years since Texas looked great, and now it looks awful.
If Brown has it back now, and could rebuild this thing, we're not likely to ever know. You can't just drop the ball for a couple of years these days and then expect patience when you get it back.
Something tells me that if Brown gets a chance to stay, Texas will be good again in a couple years. But no one is going to wait for that.
There's a reality to face here.