Wife of Philadelphia 76ers executive possibly tied to fake social media accounts, Twitter sleuths reveal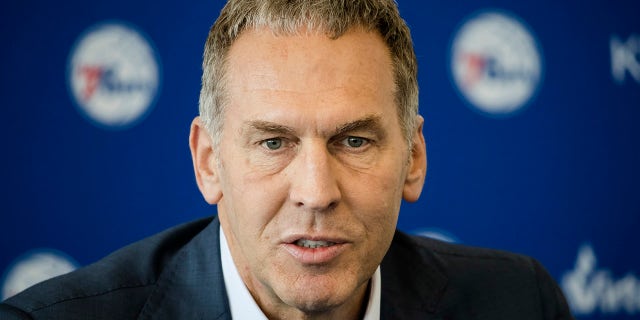 NEWYou can now listen to Fox News articles!
The wife of Philadelphia 76ers executive Bryan Colangelo may actually be the one who used fake social media accounts to trash players and league officials, Twitter sleuths revealed Wednesday.
A Twitter account called "Did the Sixers Win" figured out why three of the accounts that Colangelo himself was accused of having had different numbers. The account discovered that Barbara Bottini, Colangelo's wife, had the same phone number ending in the same digits as the number tied to some of the accounts, according to Sports Illustrated.
The discovery would explain how the "Eric jr" account would have been able to tweet about a Joel Embiid injury in 2017 while Colangelo was addressing the media.
Colangelo defended himself even further on Wednesday, telling Yahoo Sports that he believes there's someone "out to get" him.
The 76ers launched an investigation after The Ringer published a report linking Colangelo to five Twitter accounts that were taking shots at 76ers stars Joel Embiid and Markelle Fultz, former general manager Sam Hinkie, Toronto Raptors executive Masai Ujiri and former 76ers players Jahlil Okafor and Nerlens Noel.
Colangelo, 52, confirmed that at least one of the accounts was his.
"Like many of my colleagues in sports, I have used social media as a means to keep up with the news," the statement said. "While I have never posted anything whatsoever on social media, I have used the @Phila1234567 Twitter account referenced in this story to monitor our industry and other current events. This storyline is disturbing to me on many levels, as I am not familiar with any of the other accounts that have been brought to my attention, nor do I know who is behind them or what their motives may be in using them."
Colangelo is a two-time Executive of the Year Award winner and has served as a top executive in NBA front offices with three different teams – the Phoenix Suns, Raptors and 76ers.
His father, Jerry Colangelo, 78, the longtime Phoenix Suns owner, now serves as a 76ers adviser.