Why the Dallas Cowboys will have one of the NFL's best offenses in 2016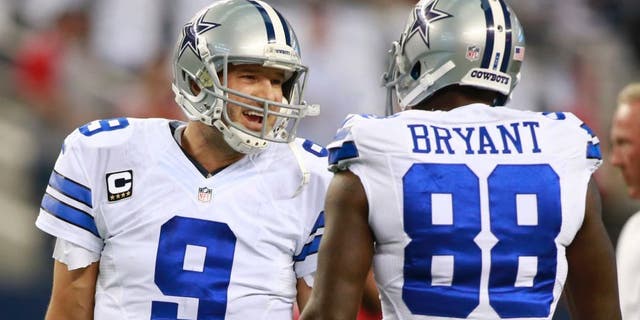 The Dallas Cowboys were not a good football team in 2015. While they haven't been the winningest franchise in recent years, last season was particularly bad, especially by their standards. After winning 12 games in 2014, Dallas earned victories in just four contests a year ago, stumbling to a horrendous 4-12 record. Of course, the main reason for their struggles was the endless string of injuries suffered early in the season.
First it was Orlando Scandrick, then Dez Bryant, followed by Tony Romo. All three players -- arguably the best on the roster -- missed significant time and had a profound effect on the team, both mentally and physically. It's hard to win football games without your starting quarterback, All-Pro receiver and No. 1 cornerback.
That's not to say the Cowboys shouldn't have won more games than they did, though. Because they should have. The Steelers won without Ben Roethlisberger and Le'Veon Bell for part of the season, as did the Seahawks without Marshawn Lynch. The Cowboys' offense was just too stagnant to overcome.
Dallas scored nearly 200 fewer points in 2015 than it did the year prior, posting the second-worst point differential in the NFC (minus-99). Additionally, the Cowboys' 275 points scored were only better than the 49ers in the NFL, which is really saying something about how non-threatening they were on that side of the ball.
Things will be different this season, however. Very different.
Dallas will have one of the NFL's best offenses in 2016 after having arguably the worst last season, and there are several reasons why.
The first of which is health. Put simply, the Cowboys expect to be healthy this season. Romo will be back at 100 percent after breaking his collarbone twice in 2015, immediately making Dallas a dangerous team. Add in the fact that he'll get his always-reliable target Bryant back, too, and the Cowboys automatically field one of the best quarterback-receiver duos in the NFL.
The offense posed no threat to any opposing defense last season, whether it was Matt Cassel, Brandon Weeden, or Kellen Moore under center. No team was scared of the Cowboys offense. In a quarter of their games, they scored fewer than eight points. Unsurprisingly, they won none of those games, all of which were started by guys not named Romo.
While it's obvious the Cowboys struggled without Romo at the helm, most people don't realize just how good they are when he is healthy. Excluding 2015 and 2010 when Romo missed the majority of the season, the Cowboys have ranked in the top five in points scored four times. That's four times in eight years when he was the starter for at least half of the season. Even in 2010 when he played six games, the Cowboys were seventh in points and yards.
There is little reason to believe Romo can't take the offense from being 31st in points to the top five yet again, so long as he remains healthy. And with the Cowboys' wall of stud offensive linemen, he should be in great shape to do so. He and Bryant will pick up where they left off when No. 88 hauled in 16 touchdown passes and 1,320 yards.
Another huge reason why Dallas will be one of the top offenses is because of who they drafted. Ezekiel Elliott, whether Darren McFadden got injured or not, was going to step in and become the lead back to start the season. He's by far the most talented running back on the roster, and it's not even close. From blocking to receiving to running between the tackles, there isn't anything he can't do.
That's something Dallas didn't have in 2015. Sure, McFadden had a nice season, but it wasn't anything more than that. A decent amount of his yards came late in games when a win was already out of reach and the Cowboys were just trying to milk the clock and not get anyone else hurt. Of his 1,089 yards, 608 came in the second half. He averaged 71.7 yards in losses and just 57.3 in wins. Furthermore, when the Cowboys were leading, he averaged only 3.8 yards per carry versus 5.0 when they were trailing.
Essentially what these numbers prove is that McFadden wasn't effective in helping the Cowboys maintain leads. He isn't the closer that Dallas needs on offense to win football games, while Elliott most certainly is. Elliott will bring a spark to the offense with his hard-nosed running and fresh legs. And with that offensive line in front of him, the sky is the limit. He should rush for more than 1,200 yards this season and add 400-plus receiving.
Speaking of the offensive line, it's only one of the best in the league. Tyron Smith, Zack Martin and Travis Frederick are all almost locks to make the Pro Bowl, with La'el Collins being a dark horse to earn a spot, too. They'll be pegged with keeping Romo upright and healthy, which they're certainly good at.
Romo often has more time to throw than any other quarterback, making his receivers a nightmare to cover when the play breaks down. That's when guys like Jason Witten and Terrance Williams are at their best, given their great chemistry with Romo, always knowing how to find a soft spot in a zone defense.
Yet, for as good as Williams has been, he's also shown great inconsistencies. There are times when he completely disappears from games and has minimal impact. If he continues to do such, he could be supplanted as the No. 2 receiver by a guy the Cowboys quietly traded for last season: Brice Butler.
Like his fellow offensive players, Butler dealt with his share of injuries, too. He played just seven games, catching 12 passes for 258 yards. Those numbers obviously aren't anything to get excited about, but his potential is. He has outstanding size and speed to be a second option at wideout for Romo, and a full offseason to get acclimated together should certainly help after the two played just one game together.
If Butler can emerge as a serious and reliable option next to Bryant and Williams, look out. He can blow the top off of a defense just like Williams, opening up the underneath routes for guys like Bryant and Cole Beasley.
The Cowboys are full of mismatches on offense, from Bryant's size to Beasley's quickness in the slot to Lance Dunbar's receiving ability out of the backfield. If they stay relatively healthy as a group, no defense will be able to key in on one weapon -- they can all beat you in different ways.