Why the Cyclones need a new attitude in the red zone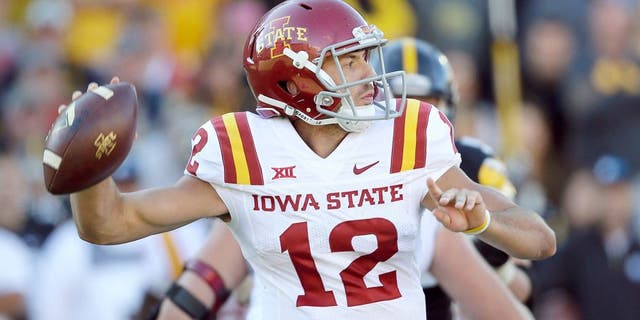 Iowa State quarterback Sam B. Richardson throws a pass during the second half of an NCAA college football game against Iowa, Saturday, Sept. 13, 2014, in Iowa City, Iowa. Iowa State won 20-17. (AP Photo/Charlie Neibergall) Ames Tribune
Iowa State has talent on the offensive side of the ball, from Mike Warren, to Sam B. Richardson, to even backup quarterback Joel Lanning. They pile up yardage, at times, with ease. But that yardage doesn't always translate to points.
The Cyclones have a lot of improving to do in the red zone.
Iowa State is last in the Big 12 in touchdown percentage once they reach the red zone at 52 percent. Often times, they don't even come way with field goals.
"We are stopping ourselves," offensive coordinator Mark Mangino said. "Our wounds on offense are self-inflicted."
How so? Get the whole breakdown at the Ames Tribune.