Why Marcus Mariota will be a legitimate MVP candidate in 2017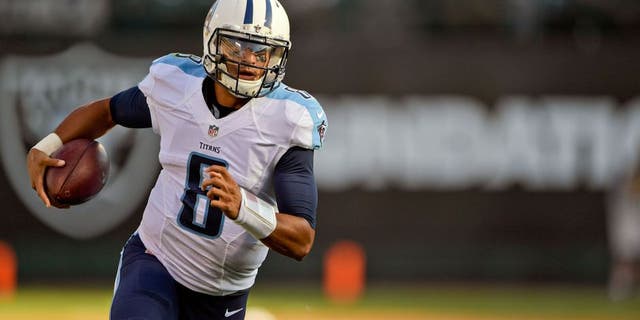 NEWYou can now listen to Fox News articles!
In nine of the past 10 years, and 13 of the last 16, a quarterback has been named NFL MVP. Its the most important position in sports, so it should come as no surprise that quarterbacks have dominated the Most Valuable Player discussion.
That trend will rage on in 2017 with another signal-caller likely to win the award. Tom Brady isnt suspended, Derek Carr is healthy and a terrific young quarterback, and Aaron Rodgers is, well, Aaron Rodgers. And thats without even mentioning Drew Brees, Ben Roethlisberger or Dak Prescott as MVP candidates.
However, theres a darkhorse contender who could swoop in and snag the award the way Cam Newton did in 2015. Yes, its Marcus Mariota the quarterback who many said wouldnt succeed in the NFL after coming from Oregons up-tempo spread offense.
Those doubters have already been proven wrong, and Mariota will continue to thrive in 2017 all the way to a high finish in the MVP voting, if he doesnt wind up winning it.
Up to this point, Mariota hasnt gotten much help from his skill-position players. Sure, DeMarco Murray was great last season, but he was one of the Titans only consistent contributors on a weekly basis. Kendall Wright was essentially phased out of the offense, Rishard Matthews was streaky, and Tajae Sharpe was inconsistent at best.
It was essentially Murray and Delanie Walker, and then a group of question marks who couldnt be counted on to produce consistently. That wont be the case this season thanks to the Titans proactive approach in the past few months.
In the span of a few months, the Titans managed to add Corey Davis, Taywan Taylor and Jonnu Smith three rookies who will undoubtedly play significant roles this season. Davis is a true No. 1 receiver, Taylor is a tough player with good hands and the ability to play in the slot and on the outside, while Smith is a versatile tight end who can do it all offensively.
Just based on those three players, the Titans got significantly better and more explosive on that side of the ball. Mariota had 26 touchdowns and just nine interceptions with a mediocre cast of skill players last season, so just imagine what hes going to do with Davis, Taylor and Smith in the mix.
Its fun to project how good Mariota will be in 2017, but whatll it take for him to actually win MVP? Lets take a look at the numbers.
The past six quarterbacks to win MVP have averaged 4,530 yards passing in their award-winning seasons. The biggest outliers of that group are Peyton Manning, who had 5,477 yards in 2012, and Cam Newton, who had 3,837 yards in 2015. Theyve also averaged 41 touchdown passes and just seven interceptions in those seasons with only Newton and Manning throwing at least 10 picks.
Now, Mariotas numbers from last season 3,426 yards, 26 touchdowns and nine interceptions obviously dont stack up to those of past MVP winners, but he also missed one game and threw just one touchdown pass with 428 yards in his final three games. That lull put a damper on what was a great season.
Where Mariota is already on par with past MVPs is his lack of turnovers. He has only 19 interceptions in 27 career games, which is a respectable rate for a player in his first two seasons. That number should continue to drop this season with more reliable receivers on his side, and another offseason of work under his belt. By comparison, Carr saw his interception total drop from 13 to just six from Year 2 to Year 3. If Mariota can keep it under 10, hell drastically increase his chances of winning MVP.
Touchdown passes is where hell struggle to keep pace. The Titans offense is run-centric thanks to Murray and Derrick Henry. That automatically hurts Mariotas chances, but it doesnt eliminate them. Newton was in a similar situation in 2015, and he went on to shock the world with an MVP season. What Mariota has in his favor is a remarkable red-zone track record.
Mariota was seventh in the NFL last season in red-zone completion percentage (63 percent), throwing 18 touchdown passes with zero interceptions. In 2015, he was equally great with 15 touchdowns and zero picks. That should give Mike Mularkey the necessary confidence to throw the ball inside the 20, thus increasing Mariotas touchdown totals.
One area where hes improved greatly is in the deep passing game, too. He was sharp in that department last season, completing 31 passes for 25-plus yards. That was tied for 10th most in the NFL, trailing the likes of Tom Brady and Aaron Rodgers by four and three, respectively. And remember, he made all of those big plays with Rishard Matthews being his best receiver. Just think about what hell do with Corey Davis and Taywan Taylors run-after-the-catch ability this season.
Additionally, Mariota is a threat to run the ball. During Newtons MVP season, he rushed for 636 yards and 10 touchdowns. Mariota isnt a power runner like Newton, but he totaled 349 yards rushing in 2016 and found the end zone twice. If he can reach, say, 400 yards rushing and add five touchdowns to his total, thatll go a long way in MVP voting.
All things considered, Mariota can easily throw for 4,000 yards with 32-plus touchdown passes and fewer than 10 interceptions. Since the merger in 1970, only 12 times has a quarterback put up such seasons, and four of them won NFL MVP. Theyre all elite quarterbacks, too: Tom Brady, Brett Favre, Aaron Rodgers, Ben Roethlisberger, Matt Ryan and Russell Wilson. That just goes to show how impressive that stat line would be, and thats without taking into consideration his rushing totals.
Although Wilson didnt win MVP in 2015, his numbers are exactly what Mariota should strive for: 4,024 yards, 34 touchdown passes and eight interceptions. He also had 508 yards on the ground and four rushing touchdowns, as well.
What hurt Wilson that year was the Seahawks underwhelming 10-6 record. The last six MVP-winning quarterbacks have averaged 13 wins, which is probably the total Mariota and the Titans have to reach in order for him to have a chance. Thats his biggest hurdle.
Derick E. Hingle/Derick E. Hingle-USA TODAY Sport
In order for the Titans to win 13 games, theyll have to be near perfect. With games against the Raiders, Seahawks, Texans and Steelers, itll be a tough win total to match. However, the rest of their schedule is manageable. The AFC South is one of the weaker divisions with the Texans looking like the only other legitimate Super Bowl contender, while the Jaguars and Colts remain question marks.
Seeing as the Titans won nine games last season, 13 is well within reach especially after they made significant improvements on both offense and defense. Thatll likely be the determining factor in Mariotas MVP bid. No quarterback has won fewer than 11 games in his MVP season since Steve McNair won just 10 in 2003, and that came in a year in which he split the award with Peyton Manning, who won 12 games.
The path to the award has been laid out in front of him, Mariota just needs to put together the best season of his career, and lead the Titans to not only a playoff berth, but a division title. It wont be easy with the number of legitimate contenders the NFL has, but Mariota should absolutely be in consideration when its all said and done.