Why did Cole Hamels pitch with a bandaged chin in the All-Star Game?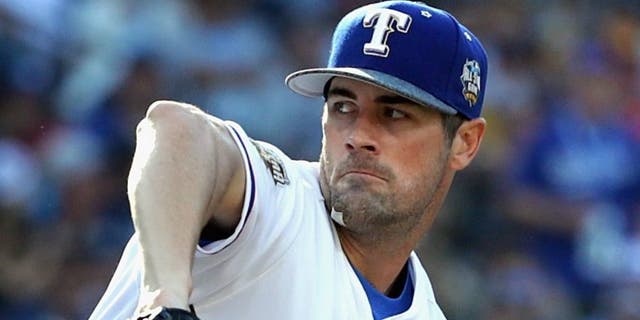 NEWYou can now listen to Fox News articles!
San Diego native Cole Hamels pitched a scoreless third inning in the American League's 4-2 win in Tuesday's All-Star Game. But the Texas Rangers' left-handed didn't escape the All-Star experience unscathed.
The white bandage on Hamels' chin was noticeable, and it wasn't the result of a shaving mishap. As FOX Sports MLB Insider Ken Rosenthal reported during the broadcast, Hamels fell in his hotel room early Tuesday morning and needed eight stitches to close the wound.
And the drama didn't stop at the emergency room. According to MLB.com, Hamels had to wait 30 minutes to get into Petco Park because he went to the wrong entrance.
"This is fun, and it's just an opportunity that doesn't happen," Hamels said. "For a lot of us in here, it's such a rarity to be able to do it and have the type of [hometown] following. It was great during the parade because a lot of them know I went to [Rancho Bernardo High School] and a lot of them went to RB and had RB stuff on. People know you are a hometown player, and it was fun to see."
Still, it wasn't exactly the homecoming that Hamels expected.