Why Carl Edwards likes the feel of difficult Kentucky Speedway surface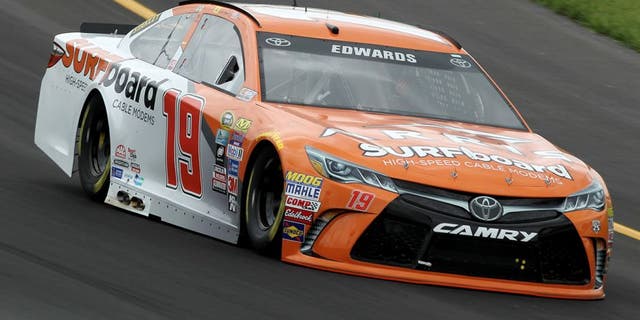 NEWYou can now listen to Fox News articles!
Carl Edwards got a jump on the field at the newly repaved and reconfigured Kentucky Speedway Thursday as he put his Joe Gibbs Racing Toyota on top of the speed charts in the opening round of practice for the Quaker State 400.
Saturday night's race will mark the halfway point of the 2016 NASCAR Sprint Cup Series season and already Edwards has two race victories and is fifth in the points standings.
Not coincidentally, he said he's really enjoying himself in his second year with Joe Gibbs Racing.
"I think the first half of the season for me has been more fun than I've had in a long time," said Edwards. "Really close finishes, hard racing, there's been a lot more passing and I'm having a blast with my new crew chief Dave Rogers. We get along real well."
And Rogers believes in Edwards, too.
"I think I've got the best driver," said Rogers, who formerly was a crew chief for JGR teammates Kyle Busch and Denny Hamlin. "I think all of our drivers are great. But when I go to the race track, I'm 100 percent convinced that the best driver in the business is driving my race car.
"And therefore, it becomes really simple," said Rogers. "If I do my job, we win. It doesn't matter what Adam Stevens (Busch's crew chief) does. It doesn't matter what Jason Ratcliff (Matt Kenseth's crew chief) does. I have this mentality that my driver is the best. If I do my job, we win the race."
That's a pretty stout endorsement.
If Thursday's practice was any indication, all of the Toyotas will be strong at Kentucky this weekend. In fact, Busch was second behind Edwards and Hamlin fourth, with Martin Truex Jr. third in his Furniture Row Racing Toyota.
Edwards said he likes what he's felt at the new Kentucky racing surface, which includes abrasive pavements and progressive banking in the corners.
"It's a beautiful surface. It's really smooth," said Edwards. "The best part of it that I can think of so far is that Turns 1 and 2 are much different than 3 and 4."
Edwards hopes that translates to a good race on Saturday night.
"A lot of times with these new surfaces it's very difficult to pass and everyone is in one groove," he said. "I slipped up a couple times in Turn 3 and washed up the race track in a spot I didn't want to be. I saw a lot of people having trouble there and I think it's going to make the race good.
"You have to have things like that -- you have to have difficult parts of the race track and Turn 3 is very difficult. I think that's going to be good."