Who is the best basketball movie team of all-time? Play GM and find out...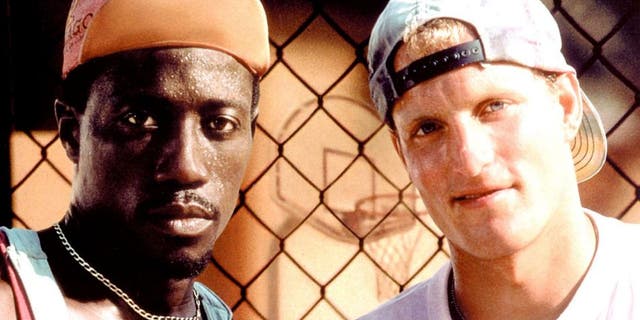 So here's the deal: it's September, which means there is no basketball. How do basketball fans get through this dark time? A lot of hardwood classics, YouTube highlights, and basketball movies.
Speaking of basketball movies --€" have you ever wondered: Who is the best fictional player ever? Well, I guess that's a pretty easy answer knowing that arguably the best player of all time (Michael Jordan) starred in Space Jam.
Let's take this a bit further...
By opening this post, you are now required to act as your expansion franchise's general manager and build the best basketball movie roster possible --€" but there's a catch: just like the NBA, there is a salary cap. You are restricted to spending $25 max.
Below, you will find your choices from Hollywood's most famous basketball-centric films and/or fictional characters who famously demonstrate a superior grasp of the game at one point in the movie they star in.
Here are the options ($25 Dollar budget, Select 5 Players):
$13
Michael Jordan, Space Jam
$8
Neon Boudeaux, Blue Chips
Nerdluck Blanko, Space Jam
Butch McRae, Blue Chips
$7
Shep, Above the Rim
Saleh, The Air Up There
Jesus Shuttlesworth, He Got Game
David Lattin, Glory Road
Kenny Tyler, The 6th Man
Shorty Russell, Sunset Park
$6
Earl "The Goat" Manigult, Rebound
Ty Crane, Coach Carter
Jimmy Chitwood, Hooisers
Monster Nawt, Space Jam
Scott Howard, Teen Wolf
Jackie Moon, Semi-Pro
$5
Sidney Deane, White Men Can't Jump
Billy Hoyle, White Men Can't Jump
Junior Battle, Coach Carter
Antoine Tyler, The 6th Man
Moses Guthrie, The Fish That Saved Pittsburgh
Duane Martin, Above the Rim
$4
Bobby Joe Hill, Glory Road
Calvin Cambridge, Like Mike
Quincy McCall, Love & Basketball
Kenyon Stone, Coach Carter
John Tucker, John Tucker Must Die
Ricky Roe, Blue Chips
$3
Jamal Jefferies, Juwanna Mann
Coffee Black, Semi-Pro
Rufio, Hook
Odin James, O (Othello)
Jim Carroll, The Basketball Diaries
$2
Monix, Semi-Pro
Elliot Richards, Bedazzled
Lewis Scott, Celtic Pride
Jamal Wallace, Finding Forrester
Ellen Ripley, Alien
$1
Monica Wright, Love & Basketball
Bugs Bunny, Space Jam
Lola Bunny, Space Jam
Air Bud, Air Bud
Jimmy Dolan, The Air Up There
Sandy Lyle, Along Came Polly
----
Sorry to break this to you, but, my squad of:
PG: Bobby Joe Hill ($4)
SG: Sidney Deane ($5)
SF: Ripley ($2)
PF: Ty Crane ($6)
C: Neon Boudeaux ($8)
Isn't losing to anyone. Two floor generals, the "one and only" unstoppable Ty Crane, the most dominating big man to ever bless Hollywood, and a freakishly athletic alien mother.
If you think you can do better, comment below...