White makes a difference on Sharks' power play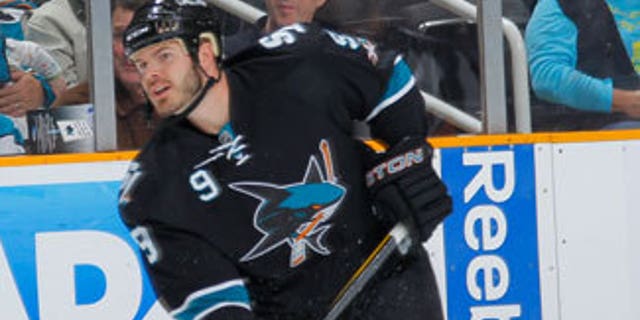 SAN JOSE, Calif. -- Ian White's first career playoff goal was a big one. It wasn't the winner, but it put the San Jose Sharks ahead for good during a 2-1 victory in Game 2 of their Western Conference Semifinal series with the Detroit Red Wings.
White fired a rocket through a maze of players that found the back of the net at 4:54 of the first period with the Sharks on a power play. White was acquired from the Carolina Hurricanes on Feb. 18 with bolstering the power play in mind, and he did just that Sunday.
The 26-year-old from Steinbach, Man., is participating in his first postseason after spending parts of six seasons with the Toronto Maple Leafs, Calgary Flames and Hurricanes.
Here's what White had to say afterward:
Q: The Sharks seemed to have an answer for the way the Red Wings were trying to hit your defensemen. Do you feel that's the way the game played out?
A: I think so. It just felt like we were doing a good job in pretty much every area on the ice. Our penalty-killing was outstanding. We used our power play to get us off and running. Our forecheck, backcheck, neutral zone -- you can list all the areas, but that was a real solid all-round effort.
Q: Did you know your shot was in the minute it left your stick?
A: Yeah, I did. Actually, before I even shot it, all I could see was net and there was no one in the way. I figured if I could hit it anywhere close, it was going to go in.
Q: How proud must the D-men with not only playing well defensively, but getting both goals? (Niclas Wallin scored the game-winner)
A: It's great. It has to be a whole team effort going forward here. To have the D contribute wherever we can, it takes a little pressure off the forwards.
Q: How valuable was the penalty kill in today's game?
A: It's one of the biggest factors for how it's going to go in this series. They've got one of the best power plays, year in and year out.
Q: When Wallin scored his goal, did you feel like something like that was going to happen the way you were peppering Jimmy Howard?
A: I think so. You shoot enough pucks, good things happen. It happened two nights ago (Benn Ferriero's winner) and it happened again today. We got a fortunate bounce.
Q: What is the mindset of this team now that it's ahead 2-0 in the series?
A: There's a long way to go, and these guys are a really skilled hockey team. It's not like we're walking away with them or anything. They're really close games. Anything can happen here. We'll enjoy this one tonight, reset everything, then start from scratch when we head to Detroit.
Follow Dave Lozo on Twitter: @DaveLozo