What to watch for in the Shootout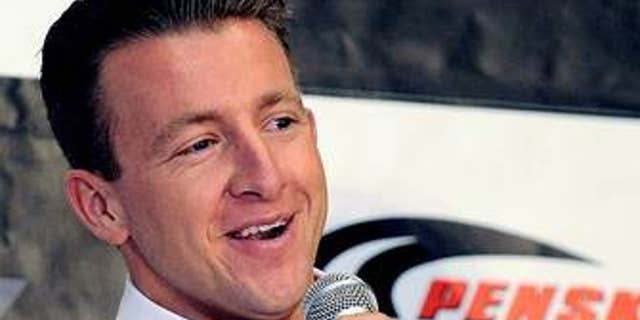 DAYTONA BEACH, Fla. – What should you be watching tonight as you tune in to FOX for the 34th running of the Budweiser Shootout at Daytona International Speedway? Here are five storylines you'll want to keep an eye on once the green flag waves on the 75 laps, 187.5 miles, non-points race (coverage begins at 8 p.m. ET).
The Big One is back
Following a slew of offseason changes to help break up the two-car "Tandem style" drafting we saw at Daytona last year, multicar pack racing is back.
And with 25 drivers taking the green flag on Saturday night, the possibility of a multicar pile-up is imminent. Heck, there was already a five-car incident in practice on Friday. Who knows what can happen when drivers are actually racing?
Stewart going for more Daytona glory
Daytona International Speedway will always be affectionately known as "Daletona," since Dale Earnhardt made himself quite at home at the track - 34 wins in all events, most all-time for all competitors at the famed 2.5-mile speedway.
But defending Sprint Cup Series champion Tony Stewart in Dale's house.
Should Stewart win on Saturday night, or anytime during Speedweeks, he will break a tie with Bobby Allison for second-most wins at Daytona (they both have 16). Smoke has 15 wins on the 2.5-mile oval, one on the 3.56-mile road course.
At least Stewart has some help on his side: His manufacturer, Chevrolet, has won over half of the Shootouts in history (19 of 34).
Whether or not Stewart wins, there will be some history made on Saturday. Jeff Gordon will race in his 19th Budweiser Shootout, putting him in a tie for third most all time with Rusty Wallace and Ken Schrader. Only Bill Elliott and Mark Martin (23 each) will have more than Gordon.
Can 'Dinger keep streakin'?
As if joining a high-profile organization like Penske Racing wasn't enough weight to put on his shoulders, AJ Allmendinger also faces additional stress as he tries to keep a streak alive for his high-dollar sponsor, Shell-Pennzoil. A driver wearing the yellow and red Shell firesuit has won the last three Shootouts at Daytona (Kevin Harvick in 2009 and 2010, Kurt Busch in 2011).
Luckily, the affable driver is taking it all in stride.
"We were out at Shell and Pennzoil's headquarters in Houston last week and our sponsors were quick to let me know that their car has won the Shootout three out of the last five years. So there's absolutely no pressure at all going into Saturday's race," said Allmendinger. "Seriously, they all know what racing on the restrictor-plate tracks involves, so there's not really any additional pressure on us.
"Sure, we'd love to be able to kick the season off with a win in the Shootout there on Saturday night and we'll be trying our best to do that. But, our Shell-Pennzoil Dodge team already has the big picture in mind even before Daytona Speedweeks begin. We definitely hope to start the schedule off with a lot of success, but everyone knows how much luck comes into play at Daytona and Talladega.
"It'll be a huge moment in my career when I take the green flag there on Saturday night as a driver for Roger Penske. We've been looking forward to this occasion for several months now and it'll be great to finally get the 2012 season under way."
Shootout success can lead to more
Don't think the Budweiser Shootout is important since it's just an exhibition? Consider these stats as a way of predicting future success:
? Past Shootout winners that won Daytona 500 in same year - Bobby Allison (1982), Bill Elliott (1987), Dale Jarrett (1996, 2000) and Jeff Gordon (1997)
? Past Shootout winners to win Cup championship in same year - Dale Earnhardt (1980, '86, '91, '93), Darrell Waltrip (1981), Jeff Gordon (1997), Tony Stewart (2002)
? Past shootout winners to win races that season - 29 in 33 years (only Neil Bonnett in 1984, Ken Schrader in 1990, Dale Jarrett in 2004 and Kevin Harvick in 2009 did not). And of those 29, 25 won multiple races that season.
Still think it's not important?
Boys could still 'have at it'
Let's face it, one of the great things about the season-opening Budweiser Shootout is that there are no championship points on the line. And with a big prize pool (winner gets the lion's share of the $1 million), there's certainly a win or 'bring home the steering wheel' mentality.
Strap in tight to your couches tonight - NASCAR is back, and it's on FOX.