What, Me, Worry? Mayweather Confident About Rematch With Maidana Despite 'Dirty Tactics'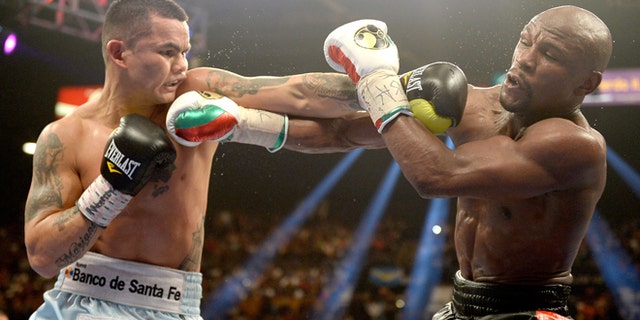 NEWYou can now listen to Fox News articles!
Floyd Mayweather isn't about to admit that Marcos Maidana gave him trouble in their first fight back in May. Not on a conference call with reporters ahead of their much-hyped rematch at the Las Vegas MGM Grand on September 13, anyway.
"I didn't have a hard time making adjustments to the way Maidana was fighting," insisted the champion, who currently holds the WBC welterweight along with an alphabet's-soup of letters and belts and weight class titles. "He came out kind of wild, and I took my time making adjustments."
Mayweather did admit that the 31-year-old Argentinian fighter's free-swinging style caused him to fall behind early in the bout.
"He won the first round, and I won the second," the champ said. "He probably won the third and fourth. He gave me a head butt in one of those, and I went into survival mode."
But Mayweather insisted when asked about his chances to dominate Maidana in the rematch, "Go watch the first fight—it isn't close. After the fourth, he lost every round."
Both fighters and their camps have complained about the first fight. Maidana and his trainer, Roberto García, have squawked long and loud about the Argentinian having been forced to switch gloves for the fight.
And Mayweather's camp has been equally vociferous about Maidana's "dirty tactics" and how referee Tony Weeks failed to protect the champ.
"Weeks is an extraordinary referee," Mayweather said. "Anybody can have a bad night."
And what will he do if Maidana sticks to the tactics the champ referred to as more worthy of a UFC fighter?
"I can't be prepared for that. I have to let the ref take care of that."
Mayweather was asked about the seeming love-hate relationship between him and Latin fight fans. When he fought Oscar de la Hoya, for instance, he angered Mexican-Americans by walking out to the ring while wearing the colors of the Mexican flag and wearing a floppy white sombrero.
"Latinos I love," he answered. "I love their support of sport of boxing."
Leonard Ellerbe – the CEO of Mayweather Promotions, which is promoting the Sept. 13 bout along with Golden Boy Productions – jumped in to call the enmity with Latino fans a myth. "Floyd has a global appeal," he said. "In Mexico City, the fans love Floyd, even more so than their own fighters because they know the sport."
He also addressed news reports that have cropped up about events outside the ring, like 50 Cent suggesting that Mayweather can't read.
"I don't focus on clown stuff," Mayweather said about the rap star's allegation. "That's for the circus."
On September 13, it ought to be a three-ringer.