What is Fausto Carmona Guilty of?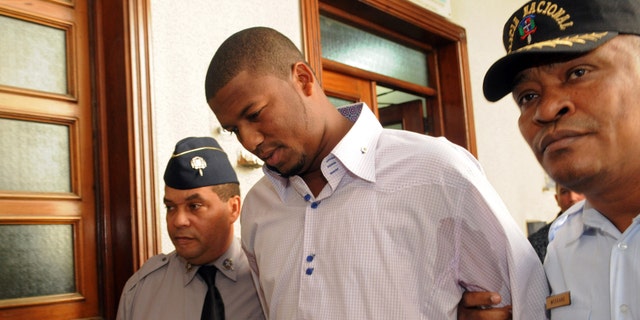 For decades the Dominican Republic has been Major League Baseball's primary pipeline of imported talent.
It's every young boy's dream to be the next Pedro Martínez, Albert Pujols or David Ortiz.
Some get signed and make it to the big leagues. Others ride the
buses, playing minor league ball in small town U.S.A. And then you have others that never pan out and are released from organizations after a few seasons, completely falling out of the
map.
Cleveland's Fausto Carmona, who we now know is really Roberto Hernández Heredia, was a diamond in the rough, just a few years too old.
He shined like the hot sun that bakes the baseball fields were countless youngsters are trained with a hope to get off an island that has become the hotspot for drug trafficking, where the education system is in shambles and where many of its citizens live below the poverty level.
The son of a farmer surely didn't want to follow his old man's trade.
With his choices in life counted in one hand, Carmona got himself a late Christmas present when the Indians signed him on December 28, 2000, 25 days after his alledged birthday, December 3.
Can you blame Carmona or whatever his name really is for paying off the family of the real Fausto Carmona throughout the years, as reported by a radio station in the Dominican Republic that broke the news after the real Carmona's mother said payments had stopped flowing
following the Indians decision to pick up a $7 million club option.
Can you blame Carmona for fooling us all and earning over $15 million in his six-year career?
I do blame him for knowing what he did and not stepping forward after Florida Marlins pitcher Leo Núñez, who is now known to us as Juan Carlos Oviedo, was arrested last month.
Although Oviedo recently agreed to a new deal with the Marlins, he's still has a mountain to climb as he attempts to straighten out his situation with the American government while cooperating with the Dominican authorities that are looking into the falsification of
records.
Another Carmona will rise soon, use shady documents as their mealticket out. Buscones, or scouts as they call themselves, and parents of these players will always look for shortcuts to make that players American dream a reality.
Adry Torres, who has covered MLB, NFL, NBA and NCAA basketball games and related events, is a regular contributor to Fox News Latino. He can be reached at elpiloto137@gmail.com or follow him on Twitter: @adrytorresnyc.
Follow us on twitter.com/foxnewslatino
Like us at facebook.com/foxnewslatino