What did it mean? Vikings-Cowboys preseason game recap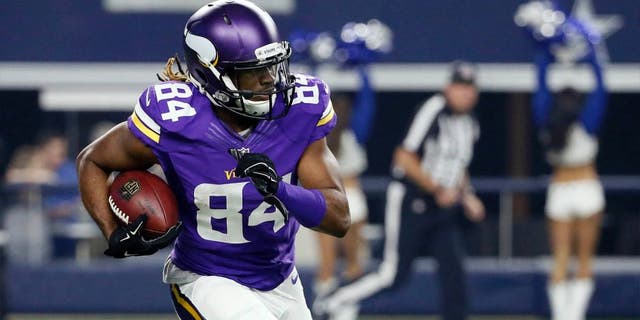 NEWYou can now listen to Fox News articles!
Saturday night at Jerry World. The all-important second-to-last preseason game. As far as exhibition games go, this one had some fairly legitimate build-up.
And, when the dust settled, the Minnesota Vikings had largely held their own, outdueling Dallas by a 28-14 margin. Yes, Tony Romo made Minnesota look bad on a few occasions, as Dallas' star quarterback passed for a pair of touchdowns, but the Vikings started fairly strong and finished impressively.
Let's delve deeper into the Vikings' fourth exhibition game, which left Minnesota unblemished, at 4-0, in preseason play this month.
5 things we learned:
-- Cordarrelle Patterson is still probably too much of a weapon to give up on. How easy did Patterson make it look on his 107-yard kickoff return for a touchdown? The 6-foot-2, 220-pound specimen exhibited peerless straight-line speed on his second-quarter score, and it looked like he was on cruise control for about the last 40 yards. Even if the 24-year old is relegated to a return man/gadget-play specialist role, he's still valuable.
-- Teddy Bridgewater has nothing left to prove in the 2015 preseason. After Bridgewater's solid, 7-for-7 showing in Dallas, the second-year QB is now 29 for 35 (82.9 completion percentage) for 295 yards overall during this exhibition season, with one score, zero interceptions and a 111.3 passer rating. He needs nothing but mental reps between now and Week 1 of the regular season.
-- Rookie Eric Kendricks has a knack for finding the football and making plays. The rookie middle linebacker out of UCLA again impressed on Saturday, getting in on four tackles. Early in the second quarter, for example, Kendricks made a shoestring tackle on Dallas running back Darren McFadden on third-and-7, forcing a punt. Fellow LB Gerald Hodges also impressed, with four solo stops.
-- And now, for the bad news. . . . The Vikings went 0 for 11 on third-down conversion attempts. That stat probably earned the team a few extra wind sprints at this week's practices. If your team goes 0 for 11 on third-downs at Soldier Field in November, you almost assuredly end up losing that game.
-- Minnesota's reserve offensive linemen struggled in pass protection. While young, unproven linemen like David Yankey were getting flagged for the occasional false start in Saturday's second half, quarterbacks like reserve Taylor Heinicke were often left running for their life. Not good.
4 things we still don't know:
-- Has Blair Walsh cured his kicking woes? The Vikings' 25-year-old kicker went 2 for 3 on field-goal attempts in Dallas, but he failed to end the night on a high note. On the first play of the fourth quarter, Walsh pushed a 43-yard attempt just wide left. And remember, the conditions were ideal in Dallas for this contest.
-- Do the Vikings have a third pass-rushing defensive end, behind Everson Griffen and Brian Robison? Rookie Danielle Hunter flashed his athleticism on Saturday, such as when he recorded a third-down, fourth-quarter sack of Dallas backup QB Dustin Vaughan. Hunter, still just 20 years old, is raw but hardly lacking for talent.
-- Who is Minnesota's best option as the last running back on the 53-man roster? Dominique Williams, 24, had the best night of the reserve ball-carriers against Dallas, with seven rushes for 32 yards and three catches for 30 yards. Joe Banyard isn't far behind Williams, while Packers castoff DuJuan Harris hurt his cause with a third-quarter fumble.
-- How healthy is John Sullivan? The 30-year-old center has made 93 starts in seven seasons with the Vikings, but back spasms have sidelined him in recent weeks. Considering he anchors a rebuilding O-line, that has to concern Vikings coaches at least a little.
3 key stats:
-- The purple and gold had 20 total first downs on Saturday, compared to Dallas' 10. The visitors outgained the Cowboys 290-194 in total yards.
-- The Vikings committed 10 total penalties for 70 yards. That gaudy stat category was especially ugly in the first half, when Minnesota was whistled for seven penalties. Such sloppiness won't be tolerated by head coach Mike Zimmer.
-- Speaking of Zimmer, have you heard that he's 8-0 as a head coach in the preseason the last two years? Yeah, that's totally unimportant, but still somewhat impressive.
2 top performances:
-- Heinicke made his case to, at the very least, survive the first round of cuts this week. The 22-year-old QB from Old Dominion went 11 for 11 with 83 yards passing and even showed some decent elusiveness as a runner, registering one 14-yard run.
-- How about the Vikings' ball-control offense? Time of possession can often be a misleading stat, but it wasn't on this night -- not with the Vikings often utilizing short, safe passes and playing with a lead for most of the second half. All told, Minnesota won the T.O.P. battle, 37:34 to 22:26.
1 big moment:
-- With just under four minutes to go in the first quarter, Bridgewater took a shotgun snap after making an audible, heaved a pass deep down the right sideline and connected with offseason acquisition Mike Wallace for a 39-yard gain. That set up a short field goal. Bridgewater has been accurate all preseason, but that was a rare downfield connection for the second-year signal-caller -- and perhaps a fitting punctuation to the QB's 2015 preseason.
Next: Thursday, Sept. 3 at Tennessee Titans, 7 p.m.
Follow Kelly Beaton on Twitter