Western Michigan is the best team you probably haven't watched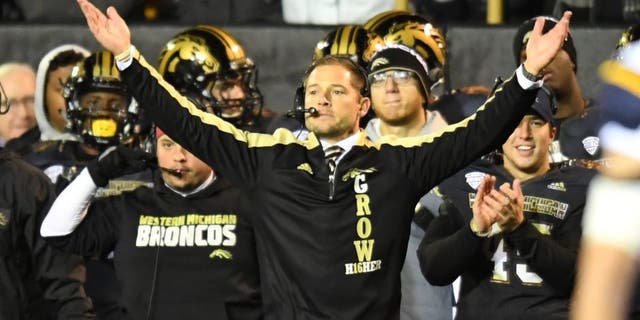 As of Friday, there are two undefeated teams in the Football Bowl Subdivision.
One of those teams is almost certainly going to be playing in the College Football Playoff.
The other probably won't make the playoff, but they looked poised to play in one of the biggest bowl games the postseason has to offer.
One team is Alabama, the powerhouse juggernaut of college football.
The other is Western Michigan, the best mid-major team in the nation.
With a blowout win over then two-loss Toledo Friday night -- it was the best MAC matchup of the season -- the Broncos improved to 12-0 on the season and earned a berth in the MAC title game next Friday in Detroit.
This campaign is already the best in WMU history -- and should they beat the 8-4 Ohio Bobcats, who are coming off a 9-3 win over Akron, next week, they'll likely play in the Cotton Bowl on Jan. 2.
Yes, with one more win, Western Michigan is going to be playing a Top-10 team in a big-time bowl. And it's hardly a charity case.
Western Michigan is in all likelihood the best team you haven't seen play this season. They notched victories over Northwestern and Illinois and they're beating Group of Five opponents by an average of 25 points per game. They have arguably the best quarterback-running back-wide receiver combo in college football -- that's no joke -- in Zach Terrell (71 percent passing, 27 touchdowns, one interception), Jarvion Franklin (1,228 yards, in a down year for him), and arguably the best receiver in the nation in Corey Davis, who set the FBS career record for receiving yards Friday (5,006).
They also have the second-hottest coach on the market behind Houston's Tom Herman.
It's fair to say that P.J. Fleck has made himself a lot of money in 2016.
Fleck is a coach who uses mottos at every opportunity, but his favorite is "Row the Boat."
The notion is simple: You have to keep rowing forward. You can only face what you've already traveled, but you have to keep rowing the boat. The more guys that row together, the faster and smoother the boat goes. It keeps going -- the metaphor can get pretty convoluted. Fleck is a high-energy guy. Once he gets going, it's hard to get him to stop. Just watch him in practice:
No one knows where Fleck -- who took over a team in 2013 that only won one game his first year in charge, and a program that hadn't won the MAC since 1988 -- will row his boat next ... if he leaves at all this winter.
But considering the job he has done turning arguably the worst program in an established conference into the best Group of Five team in the nation, Fleck probably isn't long for Kalamazoo.
It's a shame that the Broncos won't get a chance to test themselves against the nation's four best teams, particularly in a year where there will probably be a two-loss team in the playoff field. The Broncos smoked their competition this season, but their strength of schedule was deemed so weak that they were behind Boise State in the latest CFP rankings. Luckily for Western Michigan, Boise State lost Friday to Air Force. Otherwise, the Broncos might have been in line for that Cotton Bowl bid.
How would the Broncos fare if they were to make it to the Final Four? Probably better than you'd expect. Alas, it probably won't get much better than this in Western Michigan.
So catch Broncos while you can -- you'll want to say you were on the boat before they're the talk of college football in January.