Wenger believes the Gunners have a good chance of winning title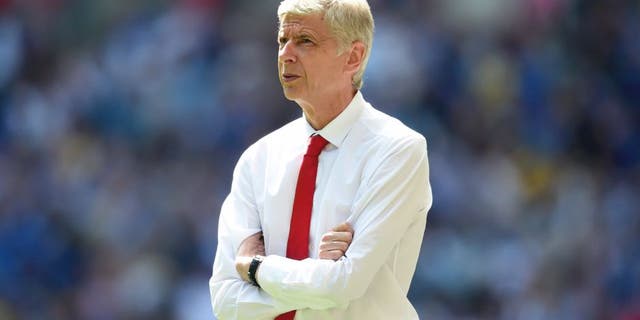 NEWYou can now listen to Fox News articles!
Arsene Wenger believes Arsenal have everything in place to win their first Barclays Premier League title in more than a decade.
The Gunners have enjoyed a strong pre-season campaign which culminated in a 1-0 Community Shield victory over Chelsea at Wembley on Sunday.
Petr Cech is the only summer arrival at north London this summer, but despite Thierry Henry's suggestion that they need a striker in Benzema's class to compete in the title race, Wenger said he believes his current squad is good enough to bridge what was a 12-point gap to Chelsea last season.
Asked if he feels his squad can with the title, Wenger, speaking ahead of his side's opener against West Ham at the Emirates Stadium on Sunday, said: "I believe yes, all going well, and us maintaining our game.
"That's important as well - that we develop what we do well and do not stand still.
"That means we develop our cohesion, our passing game. If we are capable to keep the cohesion and the solidarity we have at the moment through the 38 games, we have a good chance."
Wenger conceded that Chelsea will start as the title favorites, but the Frenchman highlighted the importance of a strong opening to their campaign after last season's stuttering start.
"Chelsea won it by a margin last year so they are the favorites," he said. "After that let's see how it goes. After 15 games you will know more about that.
"Last year after 12 games we were 15 points behind Chelsea, and in the next 26 we took 58 points and Chelsea 55, so that means we missed our start to the season because it was after the World Cup. So let's start strong this season and I believe we have the needed ingredients."
Although Wenger was in a positive mood ahead of the new campaign, he took a swipe at the decision to start this season's Premier League one week earlier.
"Look, I am not a fan of starting earlier because I think it is a massive mistake for England to start one week earlier because you have no Christmas break," he said.
"And I don't know who came up with the idea that one game less at Christmas deserves one week holiday less especially when you have a European Championship after the season.
"It is completely unexplainable and a decision once again that on the technical side we were not consulted at all."