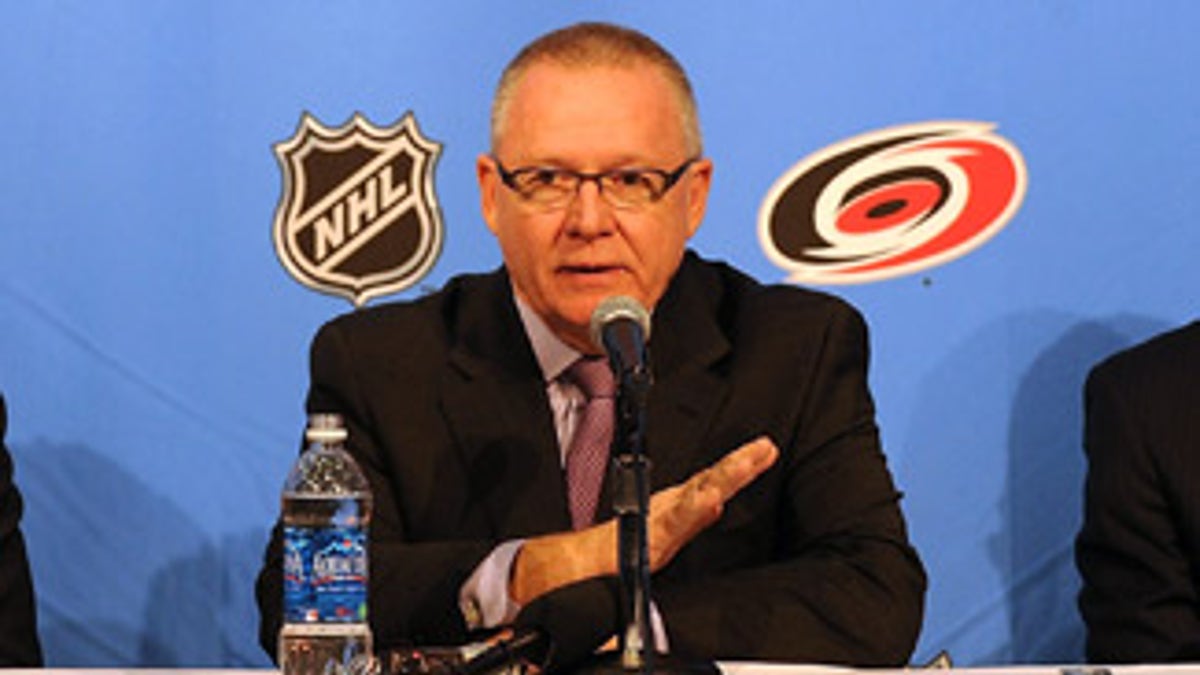 NOTE: In the eight days leading up to the 2011 NHL Trade Deadline, NHL.com will look back at the top eight deals that helped teams to win the Stanley Cup in the past 30 years.
No. 7: CAROLINA HURRICANES TRADE NIKLAS NORDGREN, KRYSTOFER KOLANOS AND A 2006 SECOND-ROUND PICK TO PITTSBURGH FOR MARK RECCHI ON MARCH 9, 2006
CAROLINA HURRICANES TRADE JESSE BOULERICE, MIKE ZIGOMANIS, THE RIGHTS TO MAGNUS KAHNBERG AND A 2006 FIRST-ROUND PICK TO ST. LOUIS FOR DOUG WEIGHT ON JANUARY 30, 2006
Carolina Hurricanes general manager Jim Rutherford was looking for players with postseason experience to help bolster his team's chances in the 2005-06 season. He ended up swinging a pair of deals that proved vital in helping his franchise capture the Stanley Cup for the first time.
The Hurricanes were a surprise when they raced toward the top of the Eastern Conference standings early in the 2005-06 season and remained there with a deep group of forwards and an underrated, mobile defense corps. By picking up Mark Recchi from Pittsburgh and Doug Weight from St. Louis, Rutherford made a deep team even deeper while adding a pair of respected veterans with lots of Stanley Cup Playoff knowledge.
"Any time you get to that point and you can add elite players such as Weight and Recchi, you need to get that kind of depth to do well," Rutherford said.
Carolina had eight players with at least 15 goals during the regular season, but adding Recchi and Weight helped the Hurricanes overcome the loss of Erik Cole, and both proved to be solid contributors during the team's march to the Cup.
Recchi and Weight finished the 2006 postseason with 16 points and combined for 10 goals. Rod Brind'Amour, Eric Staal and Cory Stillman were the go-to scorers, but Recchi, Weight and Ray Whitney gave Carolina a balanced attack that was tough to defend.
"When I heard I got traded to Carolina, I was pretty surprised actually because they were so deep up front," Weight told NHL.com. "I kind of wondered where I was going to fit in with all of their depth. Looking back, we had three great lines and a great checking line."
This was the fourth time in Recchi's career he'd been traded during a season. Each of the previous three times his team did not experience playoff success (one first-round loss and two times not making the postseason).
"I think if you have the right attitude and I think if you go in just knowing that you come in and you're a small piece of the puzzle and you're coming in to help, I think it makes it a lot easier," Recchi told NHL.com. "And you just try and fit in and be yourself and things work out."
While the addition of Recchi was a traditional deadline deal, Rutherford was more aggressive in pursuing and acquiring Weight. The Blues were languishing near the bottom of the NHL standings and several teams were reported to be interested in him, but Rutherford was able to add Weight in late January.
The move ended up giving Weight the chance to lift the Stanley Cup for the first time.
"I felt like they definitely wanted me to bring some leadership," Weight said. "All I wanted to do was get into that room and fit in. I wanted to let everyone know that I wasn't here to disrupt anything, I wasn't here to demand anything, and I'm here to complement that team. Any role that I could play to make them better I was willing to accept."