Wedge returns with 'new appreciation'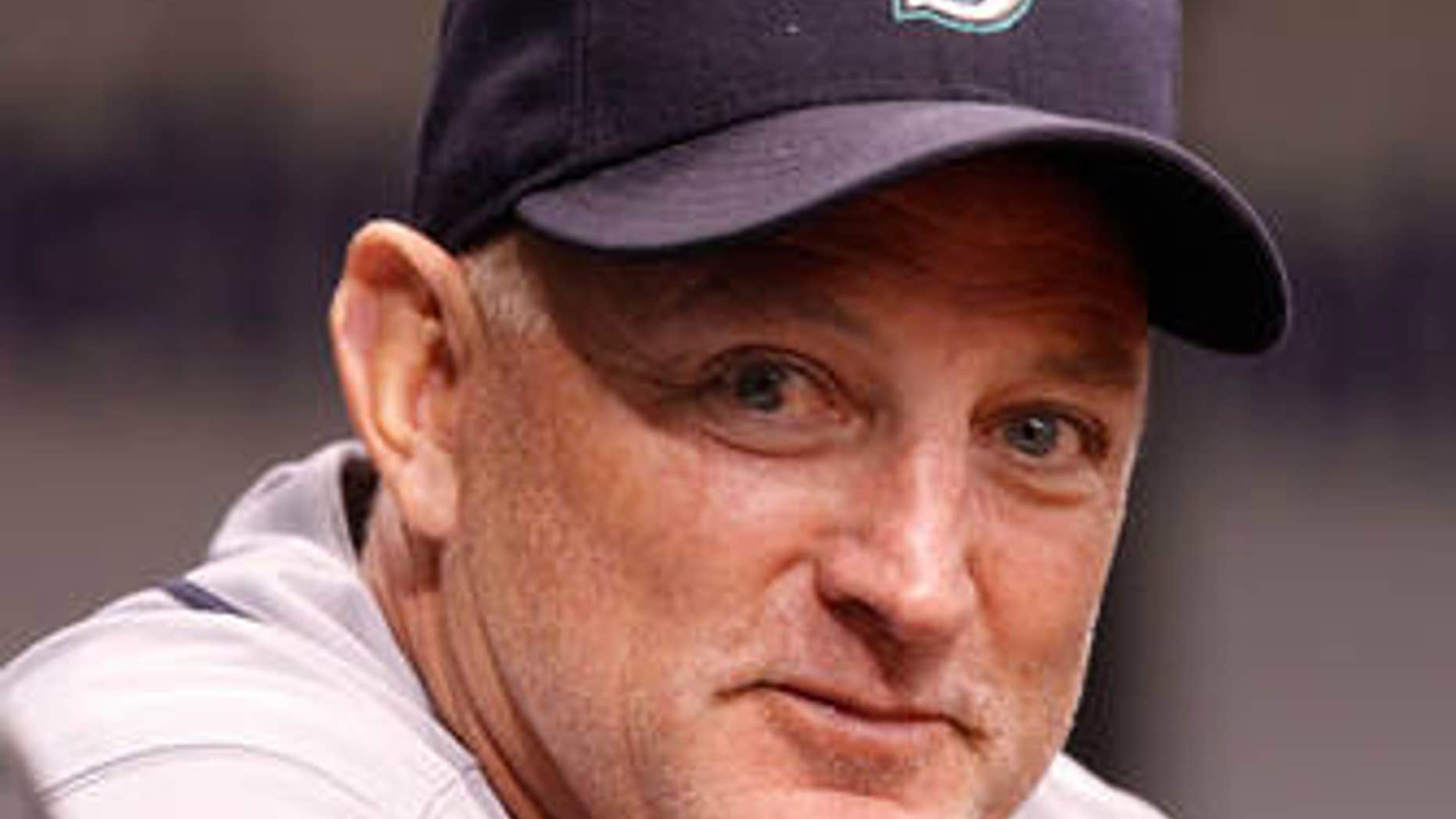 Before talking about anything else, Seattle Mariners manager Eric Wedge wants to make one thing clear: He's coming back, and he's coming back strong. That mild stroke he suffered back on July 22? Wedge alternately describes it as a "wake-up call," "a big bump in the road" and a "shot across the bow."
If you're familiar with Wedge, if you've ever heard him speak in a postgame interview, you know he is a man of conviction, not one to shrink from a challenge. Yet his latest challenge, he admits, is unique. He won't be the same manager when he rejoins the Mariners on Friday; he can't be.
Still, the way Wedge sees it, his best days lie ahead.
"It's just about prioritizing and making sure you keep the right perspective," Wedge told FOX Sports on Monday. "I'm an 'all-in' type of guy. Obviously a lot goes into this job. When you're as passionate as I am about it and respect it as much as I do, it's just something where you had better be careful day to day.
"I'm not going to change who I am. You might be on the field, yelling and screaming, doing this and that. But the other 95 percent of your day, maybe you can handle in a more appropriate fashion as far as your perspective."
Maintaining any perspective is easier said than done for a major league manager - there is always another responsibility, always a player's ego to massage, always a reporter's question to answer, always another game.
A man's life, though, is more important.
Wedge has no choice but to adjust.
------
On July 22, Wedge was standing behind the batting cage at Safeco Field, watching batting practice, reveling - as much as any manager can revel - in a six-game winning streak. That streak would extend to eight games after interim manager Robby Thompson took over; the Mariners are 9-15 since. But enough about baseball.
"I just felt something overcome me," Wedge said, recalling the moment he started to suffer the stroke. "I was losing my balance, getting dizzy, starting to feel like I was losing my legs a little bit.
"It was something I felt like I was going to try to work through, like we all do. But it just wasn't going to happen. I called Rick Griffin over, our trainer. I was holding on to the back of the batting cage, talking to him, trying to work through it, seeing if it would go away, get any better. It just kept getting worse."
Things quickly turned surreal; Wedge recalls getting escorted off the field and examined in the team's training room, then strapped to a gurney and taken to Harborview Hospital in Seattle. He said he couldn't move, "without feeling like everything was moving crazy on me."
Then came the tests, first on his head, then every other part of his body. The next afternoon, Wedge got the news: He had suffered a mild stroke on his brain stem.
He stayed in the hospital three days, then went home.
"I wasn't scared as much as I was mad and frustrated and curious as to what the hell was going on," Wedge said.
"I don't think I was ever scared, though I can tell by the eyes around me, in particular my wife, Kate, that I wasn't looking real good," he added, chuckling. "But I was never at any point in time really scared. I was just handling it and wanting to figure out what the heck was going on."
Well, now Wedge knows.
He said a combination of factors contributed to his stroke - the stress from his job was a big one, of course, and he also suffers from sleep apnea. Adjustments to his diet were necessary. He will need to monitor his blood pressure and cholesterol more closely.
His doctors told him he was lucky, that this all could have turned out differently.
"Nothing was way out of tune," Wedge said. "It was just a perfect storm."
------
This is the final year of Wedge's contract. The Mariners are 57-67, 14½ games back in the AL West, headed for their fourth straight losing season. Ownership might not retain general manager Jack Zduriencik. Wedge, by extension, also could be in trouble.
Here's the thing, though: Wedge was 34 when the Cleveland Indians gave him his first managing job. Now, at 45, he is still relatively young for a manager. And he believes the clarity he gained from his stroke and time away will make him "better than ever."
"Stress was a part of this. It is part of the job," Wedge said. "But I'm a little bit older and a little bit wiser even though I'm one of the younger guys. I'm smart enough and strong enough to where I can handle the stress more appropriately.
"One thing you can control is your mindset, how you handle it. That's what I plan on doing. It doesn't mean you're not going to have stressful moments. But how you handle it, not just on the field but also at home, there is a large part of your day that is away from the field. You've got to handle all of that appropriately."
Wedge said he always has been a person who accepted broad responsibility, trying to care of everyone and everything around him "to my own peril at times." Obviously, he will need to change that. And obviously, he will need to lose the classic Type A mindset that comes with being a major league manager.
"You have to take this as serious as you can possibly take this," Wedge said, referring not to his job but to his health. "The doctors did a good job of scaring the hell out of me before I left the hospital. They each marched in. They all came in with an agenda to make sure I understood that.
"I've taken the first step. I've never taken this much time off. Everyone said, 'Don't go back until you're ready.' I feel like I'm going to be ready on Friday. Having said that, a week from Friday, a month from Friday, next year when I'm managing, I want to make sure that I don't ever lose sight of what has happened here."
Wedge's doctors told him he might be out of work three to six months. It turns out that he will miss a little more than one.
He visited his team three times during his absence, the first after about a week, when Thompson told him the players needed to see him, needed to see that he was all right.
Friday will be a new beginning, the first day of the rest of Wedge's managerial career. He predicts he will be better in his next 10 years than he was in his first 10.
"I've always had a great appreciation for the job," Wedge said. "I've got a new appreciation for how to handle the job. I definitely got a new appreciation on how to live my life."