Watch Melvin Upton Jr. put on a defensive clinic against the Nats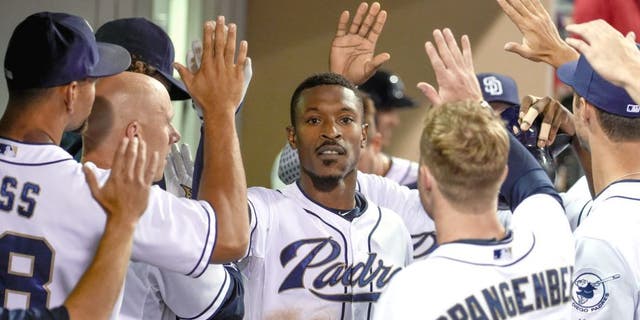 Flashes of the potential Melvin Upton Jr. possesses are appearing, now in the field after the center fielder delivered a reminder of his hitting prowess by blasting two home runs in game last week.
While the Padres ultimately lost, 4-2, to the Nationals in Washington D.C., on Thursday, Upton made a handful of contributions in the field to put San Diego in a position to win the game.
In the first inning, Upton saved the Padres two runs by tracking down a ball hit over his head and corralling it with a difficult basket catch that he executed with ease.
"He thought he was going to have to go further, the ball kind of died on him, so he made the adjustment," Padres interim manager Pat Murphy said after the game. "He's a great athlete, he can do that."
Later on, in the third inning, the 31-year-old outfielder prevented what could have been a Nationals rally by trapping a ball (watch here) off the bat of Anthony Rendon that fooled Jayson Werth, who ran himself into an out after Upton fired the ball to first.
Upton was hardly done making his imprint on the game, though.
In the midst of a Nationals rally, with bases loaded and the scored tied, 1-1, in the fifth, Upton cleanly fielded an RBI groundball off the bat of Ryan Zimmerman and fired a rocket to the plate to nab Bryce Harper.
Upton's assist served as a rally-killer for the Nats, as they didn't score another run that inning despite having the bases loaded with one out.
"For me, I take pride in my defense," Upton said. "… When you have [Andrew Cashner] out there the way he pitched, he kept us in the game. Unfortunately, we didn't score any runs for him. But we played some defense behind him and gave ourselves a shot."
Murphy was thoroughly impressed with Upton's stellar defensive play.
"He's playing as good of baseball as I've seen him play," he said.
(h/t MLB.com)