Watch Ezekiel Elliott play QB in a bucket hat, celebrate a pass to Dez Bryant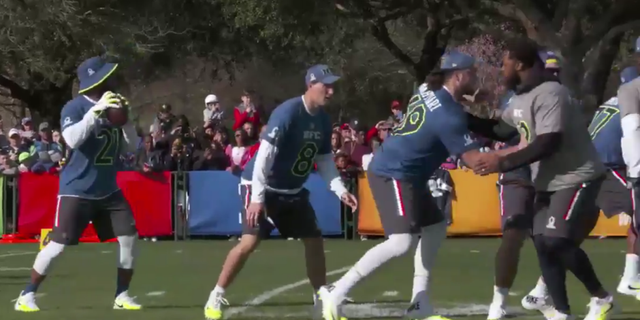 Watching Ezekiel Elliott wildly celebrate a simple completion to Dez Bryant at Pro Bowl practice isn't what Dallas Cowboys fans hoped to see a little over a week before the Super Bowl, but it's better than nothing.
On Saturday, Elliott lined up at quarterback (while wearing a bucket hat, because why not?) and found Bryant with a mortally-wounded duck of a pass -- then reacted with the kind of enthusiasm that would draw an unsportsmanlike conduct penalty during a real game:
While we're here, we couldn't help but note some of the various hat choices by the Pro Bowl participants. Most of the guys on the field rocked either the bucket hat or a typical ballcap, but Carolina Panthers tight end Greg Olsen and Bryant went with ski caps instead:
The weather forecast in Orlando called for a high of 57 degrees on Saturday, so maybe Olsen and Bryant were a little bit chilly. Everyone acclimates to different climates differently, so we won't hold it against them.
The high in Honolulu, on the other hand, was supposed to hit a balmy 80 degrees for the day. Sorry, Pro Bowlers.