Watch: D-backs' De La Rosa commits peculiar balk even he can't explain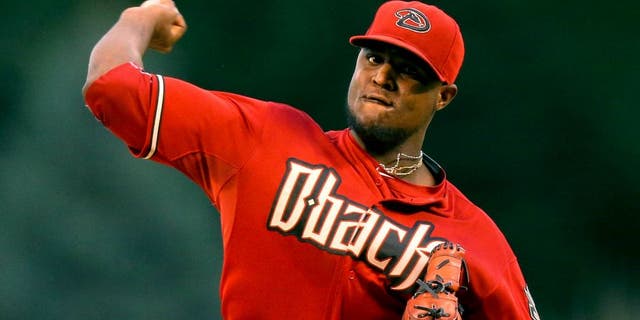 NEWYou can now listen to Fox News articles!
Diamondbacks pitcher Rubby De La Rosa had a decent night on the hill on Tuesday -- barring an inexplicable balk that left everyone, including De La Rosa, scratching their heads.
In the bottom of the first of the D-backs' second game of a doubleheader against the Colorado Rockies at Coors Field on Tuesday, De La Rosa was facing Rockies first baseman Ben Paulsen when he committed one of the most bizarre series of actions you'll see on a major-league mound.
As the 26-year-old right-hander was about to come set, he stepped off the rubber as if he were about to throw over to first base to pick off runner Nolan Arenado, only De La Rosa hurled the ball home.
There are a few problems with that:
1) A pitcher has to come set in order to throw a pitch out of the stretch, and 2) he must be on the mound when he throws the pitch.
The home plate umpire correctly deemed De La Rosa's peculiar maneuver a balk, Arenado was sent to second base, and the Diamondbacks were left bewildered as to what they had just seen from their starting pitcher.
"We still haven't got a real good answer on that," manager Chip Hale said. "He was talking about pitching him up high in the zone and we told him that might have been a little too high."
The move was so bizarre that De La Rosa had a hard time explaining it himself after the game.
"I don't know what I was thinking, but I know it wasn't a good idea," De La Rosa said. "[Catcher Welington] Castillo asked me if I saw somebody trying to steal home. I said, 'I guess?' I don't know what happened."