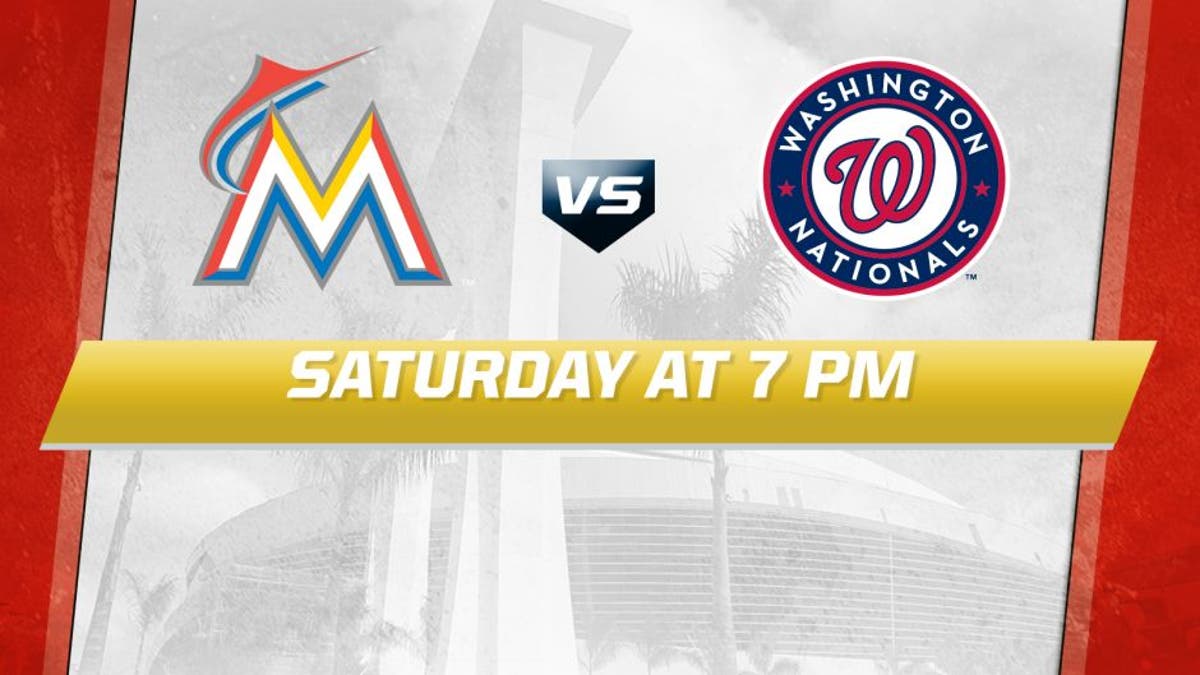 TV: FOX
Time: 7 p.m.
CAN'T GET TO A TV? WATCH IT LIVE ON FOX SPORTS GO
Miami Marlins ace Jose Fernandez continued his recent run of success with another dominating performance against the Washington Nationals while pitching opposite Joe Ross last weekend.
Those two will take the mound again Saturday night in Miami as Fernandez looks to remain unbeaten against Washington and win five straight starts for the first time.
Fernandez improved to 5-0 with a 1.09 ERA in eight starts against the Nationals (26-16) and beat them for the second time this season Sunday after allowing one run and four hits while striking out 11 over seven innings of a 5-1 win in the nation's capital.
The right-hander also moved to 4-0 with a 2.16 ERA in his last four outings with 37 strikeouts in 25 innings. Sunday's start came almost two years to the day of Fernandez (5-2, 3.21 ERA) having Tommy John surgery, and he was named NL Player of the Week on Monday.
"My therapist, my doctor, I can't thank them enough," Fernandez told MLB's official website. "Every time I see them, I tell them. I've made a couple of calls already today and said, 'I'm here because of you guys. You guys got me back.' There is no way I can ever thank them for that."
Fernandez threw a career-high 117 pitches Sunday after a 110-pitch performance May 9 against Milwaukee in which he struck out 11 in seven scoreless innings. That win over the Brewers moved Fernandez to 20-1 with a 1.65 ERA in 30 starts at Marlins Park.
"It looks like he's getting on track to what we all expected," manager Don Mattingly said. "Obviously, good for him, and good for us when he starts pitching like that and has those kind of outings."
Ryan Zimmerman hit an inside-the-park homer off Fernandez last weekend and is 4 for 14 when facing him. Jayson Werth (1 for 16), Ben Revere (2 for 14), Wilson Ramos (2 for 14), Anthony Rendon (3 for 17), Danny Espinoza (2 for 10), Bryce Harper (3 for 13) and Daniel Murphy (3 for 13) have struggled in the matchup.
"When (Fernandez) is healthy, he is among the league leaders in strikeouts," Nationals manager Dusty Baker said. "You know he is going to have some strikeouts. It's just that when you get a pitch to hit, you can't really miss it because he is not going to give you a whole bunch to hit."
Ross lost his third straight start Sunday after allowing five runs - three earned - over 5 2/3 innings. The right-hander has a 4.91 ERA over that stretch after going 3-0 with a 0.79 ERA in his first four outings.
Ross (3-3, 2.63) will be facing the Marlins (21-20) for the fourth time this season. He went 1-1 with a 2.45 ERA in the first three matchups, with J.T. Realmuto going 4 for 7 against him and Giancarlo Stanton 2 for 7 with a homer.
Stanton is in a 4-for-45 slump and has struck out 12 times in 14 at-bats over the last four games. He has one RBI in his past 13 - the homer off Ross - after Washington won its third in a row and handed Miami a third straight loss with a 4-1 victory in Friday's series opener.
"It's all about taking your time in your work and getting big G's feel back," Mattingly said. "You get out of sync a little bit, and the next thing you know it snowballs on you."