Waino will try to cool off Brewers, Thames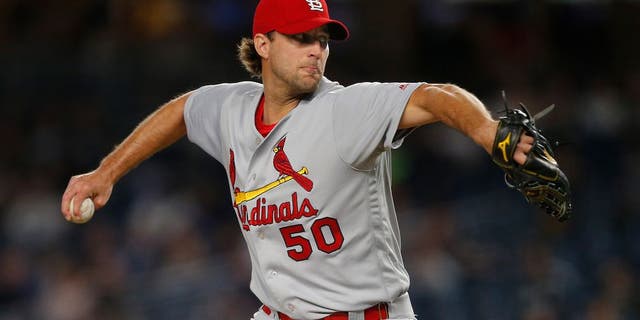 When the Milwaukee Brewers plucked Eric Thames after a three-year stint dominating the Korean League, the hope was he would provide some left-handed balance to a lineup heavy on right-handed hitters.
The move had its skeptics as Milwaukee parted ways with Chris Carter, the reigning National League home run champ, to make room for Thames, but it has certainly paid off. When the Brewers take on the Cardinals on Friday in the second game of a four-game series at Miller Park, Thames will begin the day atop the National League in home runs and batting average, fourth in RBIs and among the top 10 in walks.
Thames, 30, didn't find much success in his first go-round in the big leagues and ultimately found his way to Japan, where he turned into a renowned power hitter, but also mastered skills that had eluded him back in the States: staying away from pitches outside the strike zone and identifying breaking balls.
As a result, Thames is thriving back in the bigs and powering a Milwaukee offense that leads the league with 32 home runs.
"He's doing a really good job (of plate discipline)," said manager Craig Counsell, whose team is 9-8 after winning seven of its last 10 games. "That's kind of the foundation for every hitter, deciding between strikes and balls. That's the start of every hitter's success.
"You'll have success if you figure out the pitches to swing at. He's doing it at a very high level right now. It's not as easy as he's making it look. He has hit balls all over the field. It hasn't been just one place. It's a pretty solid, consistent overall approach right now."
The Cardinals have not been enjoying similar success at the plate, though they did show signs of life Thursday, scoring five runs against the Brewers -- their second-highest run total of the season. But it wasn't enough as the Brewers took the opener 7-5, dropping St. Louis to 6-10.
Offense would be a welcome sight for Adam Wainwright, who takes the mound Friday looking for his first victory of the season. The veteran has been limited to just 13 2/3 innings over his three starts, averaging 20 pitches per frame and allowing 10 of 15 leadoff batters to reach base. He is 0-3 with a 7.24 ERA.
Working in his favor Friday is a track record of success against the Brewers. In 35 career appearances (28 starts), Wainwright is 16-8 with a 2.16 ERA, including a 6-4 mark and 2.55 ERA in 18 appearances at Miller Park.
The Brewers will counter with right-hander Wily Peralta, who is off to a strong start after a disappointing 2016 campaign. He's won each of his first three starts while posting a 2.65 ERA and striking out 13 batters in 17 innings of work.
St. Louis, though, has not been kind to Peralta, who is 4-10 with a 4.74 ERA in 16 career starts against the Cardinals.