Von Miller, Kobe Bryant get drenched with slime at Kids' Choice Sports Awards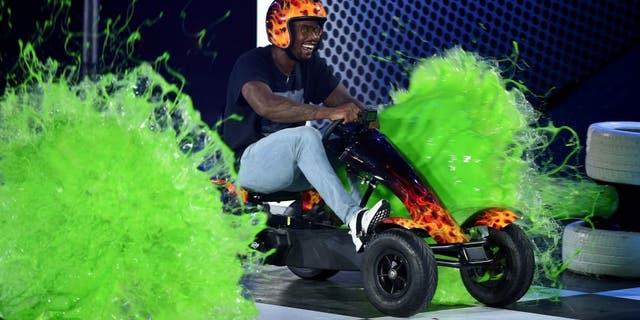 NEWYou can now listen to Fox News articles!
Before 4 p.m. on Friday, Denver Broncos linebacker Von Miller is expected to sign a whopping $114 million dollar contract with $70 million guaranteed. But first, Miller and other sports stars appeared at Nickelodeon's Kids' Choice Sports award show at UCLA's Pauley Pavilion on Thursday for some slimings.
Miller was up for "King of Swag" (the award went to Cam Newton who, ironically, got strip-sacked by Miller in the Super Bowl) and "Biggest Powerhouse" (Gronk won that one). Seahawks QB Russell Wilson hosted the festivities. A partial list of winners follows some great sliming photos. The show airs on Sunday, July 17 at 8 p.m. ET on Nickelodeon.
Best Male Athlete: LeBron James

Best Female Athlete: Alex Morgan

Biggest Powerhouse: Rob Gronkowski
Sickest Moves: Stephen Curry
King of Swag: Cam Newton
Queen of Swag: Leticia Bufoni
Legend Award: Kobe Bryant