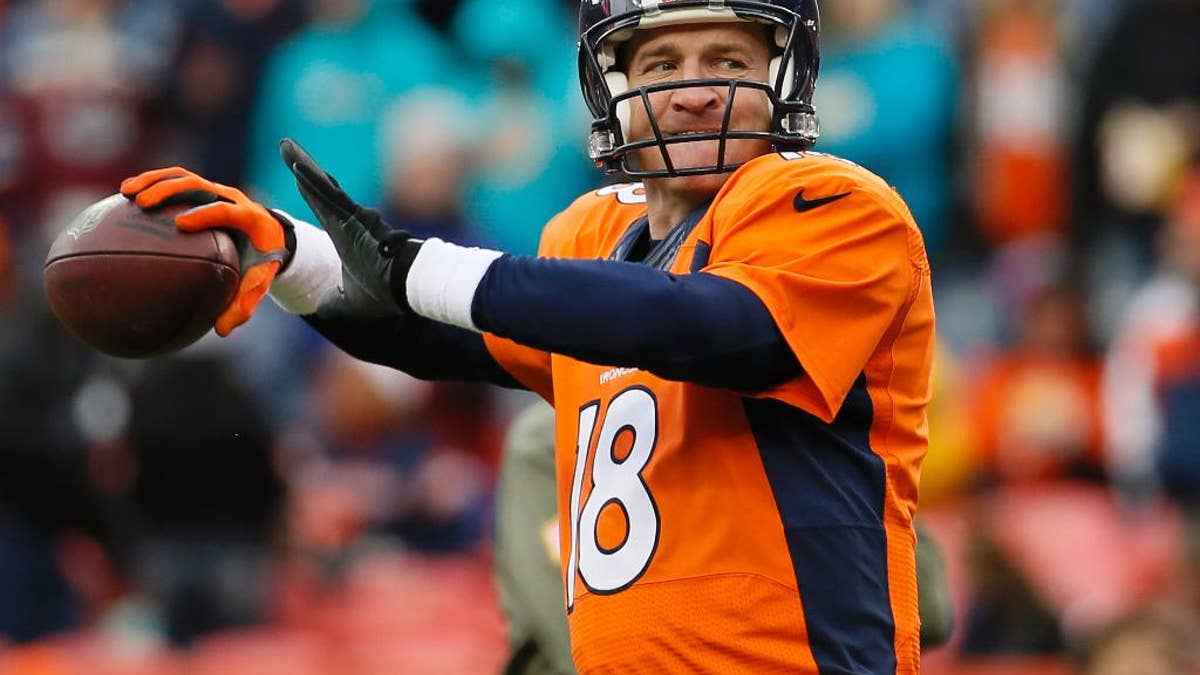 ENGLEWOOD, Colo. – Just in time for nasty weather, the Denver Broncos have discovered a grinding ground game thanks to C.J. Anderson's arrival and Virgil Green's return.
Anderson, the Broncos' second-year, third-string running back, has made the most of his opportunity with Ronnie Hillman (foot) and Montee Ball (groin) hurt.
Since taking over as the primary running back three weeks ago, Anderson has averaged 5.8 yards a carry and 11.7 yards a catch. He had 167 yards and a touchdown on 27 carries in Denver's win over Miami last week.
He caught his first TD pass against Oakland, a 51-yard masterpiece on a screen play that sparked Denver's rout of the Raiders and he scored his first career rushing TD against the Dolphins.
"C.J. is taking advantage of his opportunity," Peyton Manning said. "I think his knowledge of the offense has a lot to do with how fast he's able to play. When I say fast, he's not thinking a lot back there. He knows the protections and he knows the pass patterns. He feels good about the run plays and the cuts on where to go. When you're thinking a lot back there and not exactly sure what to do, you just don't play as fast."
Running backs coach Eric Studesville said he sometimes has to act like a teacher admonishing his star student not to blurt out all the answers when he quizzes his running backs.
"That is a real credit to him for being a real student of the game in his short time here," Manning said. "So we're calling all the same plays, if not more, with him in there and it's allowed him to run the ball well and catch the ball well and really make some plays and really make a lot of guys miss."
Anderson's addition in the backfield has given the Broncos (8-3) a running threat to go with Manning's passing prowess: Last week Denver achieved perfect balance — 35 runs, 35 throws — and while that will be hard to repeat, it gives the Broncos an unpredictability that had been missing.
"This team has good flexibility," Manning said.
Manning has enjoyed watching No. 22 leaving linemen and linebackers in the dust after so many of Denver's runs were thwarted in the backfield over the first half of the season.
In the first two months, the Broncos had 33 runs that went for no gain or negative yardage and they've only had seven such runs since Anderson took over, including just one loss of yards in 35 runs last week.
Helping out the ground game is the return of Green, whose three-game absence with a strained calf coincided with the revamped O-line's nosedive that led to heavy criticism last week.
"It was really good to get him back," Manning said. "He's one of our tough guys on this team and it was killing him not to play due to his injury. It was good for him to get back out there. It allows us to do more things from a personnel standpoint and formations.
"I'm going to get him that first touchdown pass. I'm going to do it. We're going to do it. It's just a matter of time. So, we're on a mission."
Both Green and Anderson bring a physical style to the Broncos' offense.
"He's itching to hit somebody. And that's Virg," Anderson said. "He likes going out there and playing physical. And that's what we need in this run game. And my running style is physical. So, hopefully it just builds up this offense."
Anderson said he believes Green could be a factor in the passing game, too.
Green sounds as though he'd be happy to just keep hitting guys, though.
"I missed it. Outrageously, I missed it," Green said.
Notes: LB Brandon Marshall (concussion) didn't practice Thursday but did go through stretching. If he's out Sunday night at Kansas City, the Broncos would turn to a rotation of LBs, including Steven Johnson, rookies Lamin Barrow and Corey Nelson and newcomer Todd Davis. ... TE Julius Thomas (ankle, limited) returned to practice for the first time since getting hurt Nov. 16 at St. Louis.
___
AP NFL website: www.pro32.ap.org and www.twitter.com/AP_NFL