Vin Diesel turned to Ronda Rousey to teach his daughter judo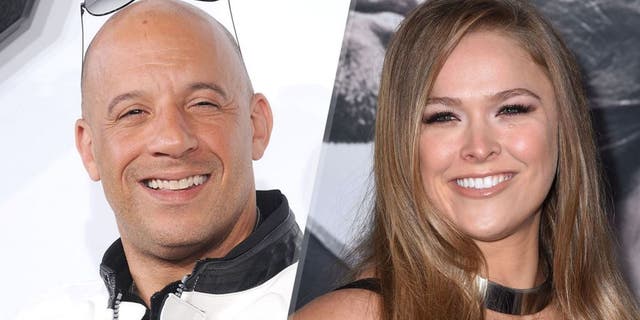 NEWYou can now listen to Fox News articles!
Vin Diesel openly admits that he's an overprotective father when it comes to his 7-year-old daughter, Hania Riley. But his paranoia has subsided just slightly thanks to judo lessons from UFC bantamweight champion Ronda Rousey.
Diesel turned to his "Furious 7" co-star for help when he decided he wanted his daughter to be prepared for anything that could possibly happen to her.
While there's little doubt Diesel will be the most grimacing father on the block for anyone stupid enough to give his daughter a hard time, from the sound of things she'll be more than capable of twisting a few arms herself.
"First of all, I feel sorry for anyone that has to (date my daughter). I wouldn't want that on my worst enemy because I'm just that kind of dad," Diesel said when speaking to WENN. "I've been thinking about this since the day I cut the umbilical cord, and because of that, I made a decision early on that I was going to do everything in my power to empower her to handle it herself.
"Because of her 'auntie' Ronda Rousey, she is now an orange belt with stripes in judo. I'm dealing with it early. I'm creating a beast, and I want her to be able to say 'No means no.' "
Funny enough, Rousey started training judo at a very early age as well thanks to her mother, who was a world champion martial artist in her own right.
Rousey eventually cultivated those skills enough to win an Olympic bronze medal in judo before becoming a force of nature in the UFC, and she is passing along those tricks of the trade to Diesel's daughter.
Chances are with Diesel looming in the doorway and his daughter learning from the most dominant athlete in all of sports, prospective dates are going be extremely respectful.