Vikings Snap Counts: Hillman leads ground game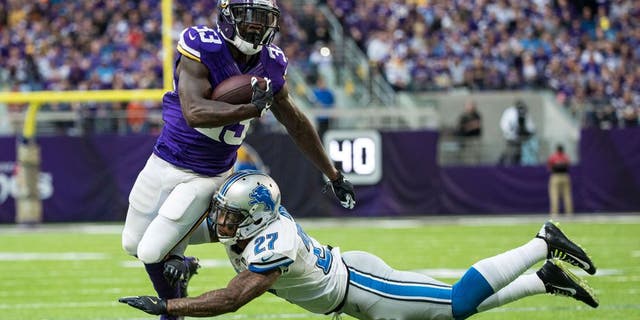 The Minnesota Vikings' backfield provided a glimmer of hope for the struggling division leaders, who now rank 30th in the NFL with just 581 rushing yards on the season.
Despite the return of Jerick McKinnon, newcomer Ronnie Hillman was in for 16 plays at running back in the overtime loss against Detroit and looked like a potential answer at the position.
Splitting carries with McKinnon and Matt Asiata, Hillman rushed for 30 yards on seven attempts and added a 32-yard reception.
McKinnon was bottled up on the ground, grinding out just eight yards on seven carries, while Asiata managed 29 yards on nine carries.
It's yet another wrinkle for a ground game that has found little room to run in 2016, even before the loss of reigning rushing champ Adrian Peterson.
Some other notes from Sunday's snap counts:
-- Rookie receiver Laquon Treadwell was on the field for a career-high 17 plays. He made his first catch, a 15-yard strike on third down in the first quarter on his only target of the game.
-- That isn't a typo. Defensive tackle Linval Joseph was deployed twice as a fullback, both of which resulted in scoring plays from the 1-yard line. At 329 pounds, Joseph made for an effective decoy, first on a quick pass to tight end Kyle Rudolph and again on a run by tight end Rhett Ellison.
-- Cornerback Captain Munnerlyn is considered day-to-day with a sprained ankle after playing just six snaps.
-- Cornerback Trae Waynes was in for more than 50 percent of their defensive plays for the first time since Xavier Rhodes returned from injury.
-- Fellow corner Mackensie Alexander was on the field for just 18 plays, taking two penalties and allowing a touchdown to Lions receiver Anquan Boldin.
-- Chad Greenway was on the field for a season-high 50 snaps, up from a low of just two in Week 4. He responded with his first interception of the season.
-- Linebacker Audie Cole started in place of Eric Kendricks, who remains sidelined with a concussion.
Here's the complete breakdown of offensive and defensive snaps for the Vikings vs. the Lions:
| | | |
| --- | --- | --- |
| | GAME 8: LIONS (OFFENSE) | |
| PLAYER | PLAYS (70) | % |
| Berger | 70 | 100% |
| Long | 70 | 100% |
| Fusco | 70 | 100% |
| Sirles | 70 | 100% |
| Clemmings | 70 | 100% |
| Bradford | 70 | 100% |
| Rudolph | 65 | 93% |
| Diggs | 57 | 81% |
| Patterson | 40 | 57% |
| Thielen | 35 | 50% |
| Asiata | 28 | 40% |
| Ellison | 26 | 37% |
| McKinnon | 26 | 37% |
| Johnson | 22 | 31% |
| Treadwell | 17 | 24% |
| Hillman | 16 | 23% |
| Line | 9 | 13% |
| Easton | 6 | 9% |
| Joseph | 3 | 4% |
| | | |
| --- | --- | --- |
| | GAME 8: LIONS (DEFENSE) | |
| PLAYER | PLAYS (66) | % |
| Smith | 66 | 100% |
| Barr | 66 | 100% |
| Griffen | 62 | 94% |
| Rhodes | 62 | 94% |
| Newman | 60 | 91% |
| Sendejo | 60 | 91% |
| Joseph | 51 | 77% |
| Robison | 51 | 77% |
| Greenway | 50 | 76% |
| Waynes | 36 | 55% |
| Stephen | 36 | 55% |
| Hunter | 32 | 48% |
| Johnson | 29 | 44% |
| Alexander | 18 | 27% |
| Lamur | 16 | 24% |
| Cole | 16 | 24% |
| Harris | 6 | 9% |
| Munnerlyn | 6 | 9% |
| Kearse | 3 | 5% |