Vikings executive: New stadium will be better than Jerry World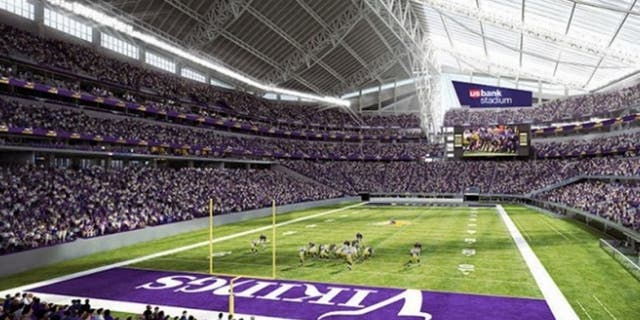 Since its completion in 2009, the Dallas Cowboys' AT&T Stadium -- nicknamed "Jerry World," after eccentric team owner Jerry Jones -- has been the pinnacle of professional sports venues. That might change, however, in 2016, when the Minnesota Vikings open U.S. Bank Stadium.
"This is the most incredible stadium in the world, until the Vikings stadium," executive vice president of public affairs and stadium development Lester Bagley said, according to Chris Tomasson of the Pioneer Press, after his Vikings topped the Cowboys in AT&T Stadium on Saturday. "It's a great stadium, but ours will top it."
The same Dallas-based architectural firm designed both AT&T Stadium and U.S. Bank Stadium. The former cost $1.3 billion to construct and seats a maximum of 105,000 fans, while the latter cost $1.06 billion and seats a maximum of 73,000. AT&T Stadium is almost twice the size of U.S. Bank stadium in terms of square feet (3.2 to 1.8 million), according to the Pioneer Press, but Bagley believes the size difference can have its advantages.
"I think it's going to be more intimate and louder (than AT&T Stadium), with the 40-percent hard roof in our new stadium and the 60-percent, the clear transparent fabric, polymer fabric," Bagley said, per the Pioneer Press.
The Vikings, who open the 2015 season against the 49ers at Levi's Stadium, will also have a chance to observe the operation at San Francisco's second-year venue.
(h/t Pioneer Press)