Victor Cruz's College Coach Put The Giant's Receiver on the Right Path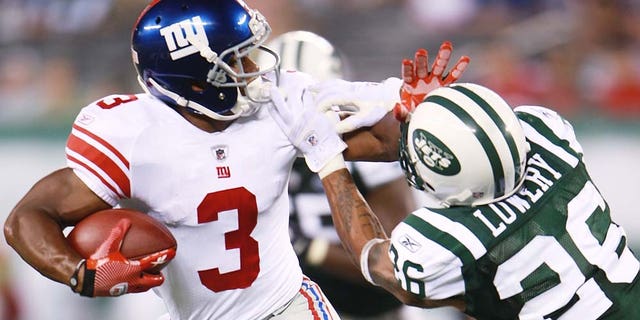 Even with all the big plays New York Giants wide receiver Victor Cruz made in this breakout season of his, no play was bigger than getting his act together at UMass.
Bigger than hisplays against the New York Jets and Dallas Cowboys over the last two weeks of the season that catapulted the Giants to a wild card playoff game tomorrow against the Atlanta Falcons at MetLife Stadium.
Cruz was shown the door in the spring of 2006 due to poor grades. He returned later in the fall, but by the spring semester of 2007, he was once again thrown out of the Division 1-AA school in Amherst, Massachusetts.
Cruz's life was starting to break down like a scratched salsa record.
Kevin Morris, the former head coach who had Cruz on his team, believed in Cruz from the very first time he saw him out in a high school field but knew his talented player was throwing his life away.
"He's a great kid. A happy kid. A guy that was really having fun. He certainly had fun in college but then he figured it out. He never did not have the capability of doing well in school. He just chose not to early on in his career," Morris told Fox News Latino over the phone Friday afternoon.
Morris kept drilling and insisting that Cruz get his act together if he really wanted to avoid becoming a statistic like so many young men in Cruz's hometown of Paterson, New Jersey.
The coach, who was recently fired from UMass, compared his task of having Cruz focus on the school work to getting a horse to drink water. "It's like you bring the horse to the water, you can't make him drink," Morris said. "We were always preaching those things. The bottom line is it's up to the kid. The kid has got to say 'I really want to do this and I'm going to make it something important in my life."
Morris' preaching along with that of others close to Cruz finally hit home. He said that it was just a matter of time for the Giants second-year wide receiver to get it all together.
Cruz had finally grown up and didn't strike out after his third chance.
"He focused on some other things outside the classroom but when he got focused on the class work, he did really well. It's just a matter of what college is for - for young guys to figure it out, grow up," Morris added. "Then you really saw him take off when he put his nose to the grindstone with the whole thing."
Morris couldn't be anything but proud of what he was able to get Cruz to accomplish. He had no doubt in his mind that Cruz could play on an NFL field.
"The thing about Vic is he's coachable. You can coach him up. He's also sharp. He understood all three of the wide receiver positions. You could put him out wide, put him on the slot or put him in tight. We did all those things because he could handle it. He knew the offense. He knew the schemes. He's a hard worker like that.
"The big thing about Vic was that all the scouts were concerned if he wasn't fast enough. I don't think he's still fast enough in college for them," Morris said with a laugh, alluding to the 99-yard touchdown play against the New York Jets on Christmas Eve and a 74-yard touchdown play against the Cowboys last weekend.
From that very first time he saw him play at Bridgton Academy in Maine, Morris knew Cruz had the play making skills to perhaps one day play in the big stage.
"When you watch a tape, his hands are so soft and he really had a good knack for running good routes and getting open. It's what you saw on the high school team. He made a bunch of plays. He obviously was a playmaker."
Of all the guys that made it to the NFL from the team, Morris couldn't be more satisfied in Cruz after he stacked the odds against himself in the classroom.
"Very proud. It's a great story. Comes up from the small college ranks, so to speak. We had four or five kids on that team go to the NFL and are still in the NFL now," Morris said.
"Seeing him come through that and be the standout guy. It's just a great story."
Adry Torres, who has covered MLB, NFL, NBA and NCAA basketball games and related events, is a regular contributor to Fox News Latino. He can be reached at elpiloto137@gmail.com or follow him on Twitter: @adrytorresnyc.
Follow us on twitter.com/foxnewslatino
Like us at facebook.com/foxnewslatino